3D Models in Waste Managenent Plant Design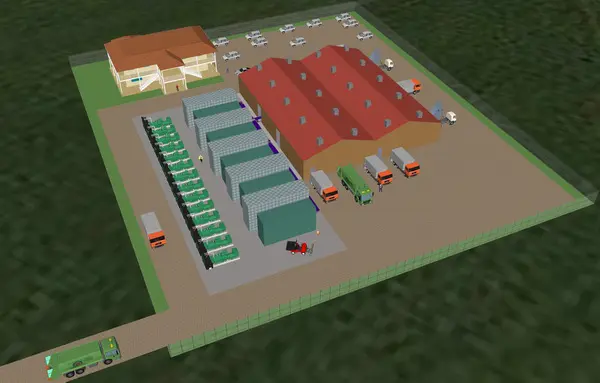 Following the modern tendencies of representing information and aiding the goal to inform clients and customers thoroughly, Waste to Energy International OÜ creates 3D-models of plants to be constructed. Models are bound to the exact geo-location and shows the main stages of utilization process. Garbage trucks unload municipal solid waste into bunker, sorting station selects non-combustible components, transporters feed pyrolysis machines, gensets produce electricity. Territory design with office and control room, inner roads and car parking slots are shown. Real dimensions are used basing on the design project. Working 3D model of a sample 130,000 ton per year of municipal solid waste (MSW) plant can be found on our 3D Model of WTE Plant page.
The individual 3D model of the plant can be provided as a part of feasibility study or ordered by customer separately. Our design team will be happy to express your imagination in the outstanding 3D model of your plant!