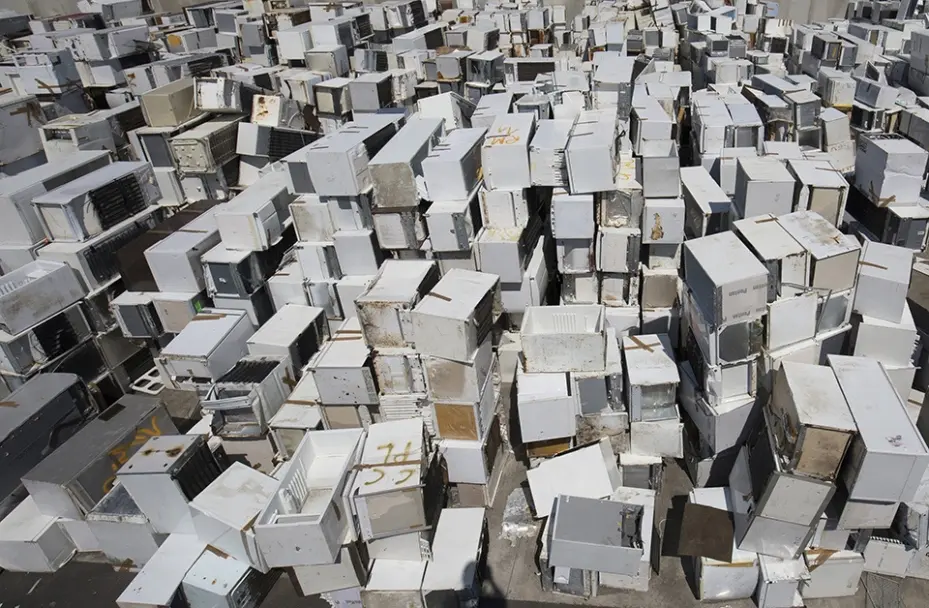 Eco-systèmes – an eco-organization approved by the authorities for the collection and recycling of electrical appliances – has collected and recycled 1.6 million refrigerators in 2016. Veolia handled 276,500 appliances at its site in Angers, which is the largest unit specializing in the treatment of WEEE (Waste Electrical and Electronic Equipment) in France.
The appropriate treatment of large cold appliances – which includes refrigerators, freezers and air conditioners – is essential because they contain fluorinated gases that have a high greenhouse gas effect and are made of materials that can be recycled.
Decontaminate then recycle
Decontaminating cold appliances is essential as the refrigerant gases they contain have a global warming potential up to 10,000 times higher than CO2, Some now banned fluorinated gases (CFCs / HFCs) are still present in 34 % of the equipment collected. Once decontamination is complete, the materials are recycled, which makes it possible to preserve natural resources and manufacture new products.