USA-2 Project, MSW to Synfuel Plant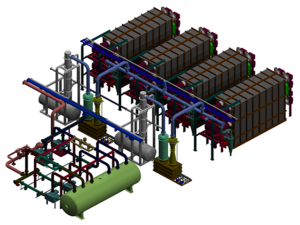 A)   Waste to Energy International (WTEI) has exclusivity to execute a feasibility study as the basis for the development of a non-recourse finance project for international investors of a "Waste to Energy (synfuel)" plant.
WTEI has exclusivity to recruit Private Equity investors and debt providers for this plant in the US.
WTEI is creating the Investment Memorandum and the Financial Model for international equity and debt investors.
B)     S T R E N G T H S
U.S.  SUPPLIER
This

proven, patented "Waste to Energy Technology"

from the U.S. has high efficiency for all types of waste and complies to all environmental regulations in countries with the highest environmental standards and specifically complies with the California South Coast emission regulations, one of the strictest in the world.
The project is based on a

world-wide patented technology from the United States

. WTEI has the rights to market this technology in

many countries and has exclusivity for THIS PROJECT IN THIS US STATE

.
The technology is modular and easily expandable at any time.
The political support in the state is performed.
The movement of the state towards initiating such potent plant projects is a major face lift for the environmental status compared to today.
This plant is designed to convert unsorted MUNICIPAL SOLID WASTE (MSW)

into high quality SYNFUEL

.
INFLUENTIAL PLANT INFO
Waste processed per day – 375 ton of MSW, 66 ton of plastic, 3 ton of rubber, 15 ton of plastic foam.
Waste processed per year – 163,200 ton of above mentioned mix.
Project is approved by STATE ADMINISTRATION.
MAIN STAKE HOLDERS for plant realization
U.S. well established, well reputed EPC contractor / industrial park developer
U.S. technology provider
WTEI as project integrator
C)     CAPITAL TERMS OF THE INVESTMENT OPPORTUNITY
Financing of the

calculated soft costs including the WTEI's feasibility study

with a bankable financial model for the equity/debt investors.

Investment Memorandum 

and Financial Model

will be fully developed and available through and with WTEI feasibility study.

Feedstock supply agreements

for unsorted MSW preliminary approved by municipality for 20 years with state-guaranteed tipping fees/ton – signed as soon as funding is in place.

Off-take agreements

for SYNFUEL already preliminary approved for 20 years. Refineries such as EXON, POLY FRONTIER etc. have already provided LOI which will be signed as soon as funding is approved.

Refineries

are receiving considerable Federal tax incentives when blending synthetic fuel with fossil fuel.

Lead developer

has established excellent relations to the state and municipality for major support on fast permit processing.
EPC contractor will be the same as for Phase 1. – Pre-agreement is already in place.

IRR is 23.36%

at 75/25 debt/equity ratio.
Financial model calculated for non-recourse debt finance at 5.0%.
Annuity repayment – 1st year deferred payment.
Annual interest and principal payments.
This project displays a very good profitability for an equity investor.
All pertinent financial and commercial information is contained in the data room which can be opened upon signing of NDNCA. We look forward to your questions and comments, as we are ready to address those at any time.
Download PDF
For any further questions please contact: