Bulgaria-2 Project, Photovoltaic Plant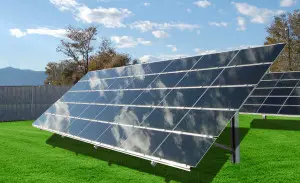 Waste to Energy International OÜ has exclusivity to sell the fully developed project with all permits and prepared contracts, guarantees for the owner.
Key project data:

Project Name – 76 MWp Photovoltaic Plant in Bulgaria;
Capacity – 76 MWp;
Size of land –  1.55 million m2;
Grid connection – close by;
Yearly sum of global irradiation is approximately 1,547 KWh/m2;
Technical documentation – prepared by the a renowned German company  – Consulting Engineers;
100% owner of the project – Swiss Holding & PV Development company;
The photovoltaic power plant design has been prepared by a professional company. The substation, cable line and grid connection have been prepared by ABB;
An international tender has been conducted for EPC contractor. Tender documents have been submitted to a very renowned German company, an Austrian company and 2 further renowned construction companies.

Plant overview/Site configuration:

21 individual entities with a capacity of 2.5 to 5 MW each;
Entities are owned by 21 individual companies which are in 100% owned by the Swiss Holding company;
All plants are connected to a central substation on the project premises via 20 kV cable.

Permits and Licenses:

Building right for a photovoltaic power plant + 1 substation owned by owner;
Building permit from the Ministry of Environment;
Permit from the Ministry of Agriculture for change of the status of the land from agricultural to industrial;
Preliminary off-take agreement with The National Electric Company (NEK) for 76 MWp is signed;
Construction permit for 21 photovoltaic power plants;
Permit for the cable line construction (20 km);
Construction permit for the inner roads;
Construction permit for the 20 kV cable lines;
Building Permits for internal and access roads.

Productivity (for 76 MWp) – 107,920 MWh per annual production, multiplied by the active tariff of BGN 131 (EUR 67) per MW;
IRR on equity = 14.94%;
Term of the agreement for electric energy purchase – 20 years;
Project is ready for Due Diligence, electronic data room on the Internet is available;
Data room consists of more than 1000 files with total size almost 2 GB.
All pertinent financial and commercial information is contained in the data room which can be opened upon signing of NDNCA. We look forward to your questions and comments, as we are ready to address those at any time.
Download PDF
For any further questions please contact: