Briquetting for wood and other waste materials

U Briquetters Advantages
Variable container sizes (on request)
Left-hand and right-hand versions
Hydraulics with a separate oil tank
All types can also be built as "twin" versions
General Description
U-series briquetting presses are designed for briquetting wood shavings, sawdust and other waste like EPS. Through this operation not only storage and transport costs will be reduced, but the final product-briquettes are also a valuable fuel. Depending on the throughput and material, the briquetting presses can be individually adapted to various tasks.
Applications
Virtus Equipment briquette presses handle various materials like wood, paper and cardboard, and biomass and turn the waste into small, compressed briquettes. Without the use of any glues or adhesives, the press creates a solid briquette which looks similar to a hockey puck. Machines can be designed for different briquette sizes and individual briquette shapes depending on the application. All models are noted for their robust construction as well as low maintenance technology. They can also be optimally integrated into your existing production line.
Briquetting waste materials can reduce volumes by up to 90%. Briquetting also allows you to save money on expensive storage and production space in addition to the production of high quality secondary raw materials and briquettes are high in heating value. Briquettes are easier to store, lower an operation's fire risk, decrease transportation costs, and reduce the fine dust and pollutants through the compression of shavings and dusty materials into clean, compact briquettes. Virtus Equipment's briquetting machines offer an economic alternative to costly fire prevention measures because the process greatly reduces the danger of fires and explosions in the warehouses and on shop floors by briquetting and consolidating potentially flammable waste into compact entities.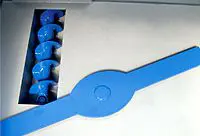 Agitator
Permanently rotating agitator with discharge screw for transporting material into press unit.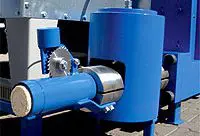 Length Monitoring
Optional briquette length monitoring.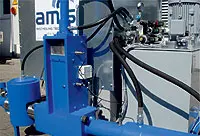 Chute Sensors
Dustproof filling chute with sensors.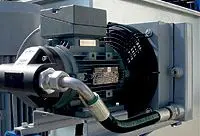 Oil Cooling
Optional oil cooling for hydraulic system.
Specifications

U Series

 

50

60

70

Briquette Diameter
mm
50
60
70
Standard Hopper Size
mm
1000 x 1000
1000 x 1000
1000 x 1000
Voltage
V
380 - 420
380 - 420
380 - 420
Motor Power
kW
7.5
7.5
11
Screw Conveyor Diameter
mm
150 x 150
150 x 150
180 x 180
Throughput
kg*
~ 35 – 70
~ 40 – 80
~ 70 – 130
Weight
kg**
~ 750
~ 750
~ 950
Dimensions
A
mm
1080
1080
1080
B
mm
270
270
270
C
mm
1420
1420
1420
D
mm
1288
1288
1288
E
mm
1883
1883
1883
F
mm
1000
1000
1000
G
mm
1000
1000
1000
Notes:
*Throughput is dependent on the material and residual moisture content, which should not be more than 18%

**Depending on equipment


| U Series |   | 75 |
| --- | --- | --- |
| Briquette Diameter | mm | 75 |
| Voltage | V | 480 |
| Motor Power | kW | 55 |
| Throughput | kg | 800-1000 |
| Weight | kg | 6100 |
| | | |
| Dimensions | | |
| A | mm | 4020 |
| B | mm | 1420 |
| C | mm | 2010 |
| D | mm | 880 |
| E | mm | 2060 |