Remove what you don't want – compact the rest

LE Liquid Extractor/Compactor Advantages
Direct driven, low speed auger with reverse feature
Adjustable material cutting ring
Programmable controls
Adjustable pressure ring on discharge
Easily customizable to suit different applications
Download LE Brochure
General Description
The LE series liquid extractor/compactor features a patented, high torque screw auger. This auger removes liquids while reducing the overall volume of the waste product. Compact is accomplished through the use of a reducing diameter and pitch auger. Compaction ratios of between 40:1 to 65:1 depending on the initial product volume.
Applications
The LE extractor/compactor has been designed for recycling of any liquid filled container, paper, cardboard, organics, wood, steel and aluminum cans. It is highly successful in removing liquids from food, beverage, household products and cosmetic packaging. The high compaction ratios achieved substantially increase the capacity of the waste containers. The reduced volume greatly reduces the number of times the container must be emptied. It can provide a waste processing solution for a variety of other purposes. It is available in "dry" or "wet configurations and can accommodate a number of discharge options.
Adjustable Cutter Ring
The extractor/compactors use adjustable cutter rings to easily handle a wide variety of input materials.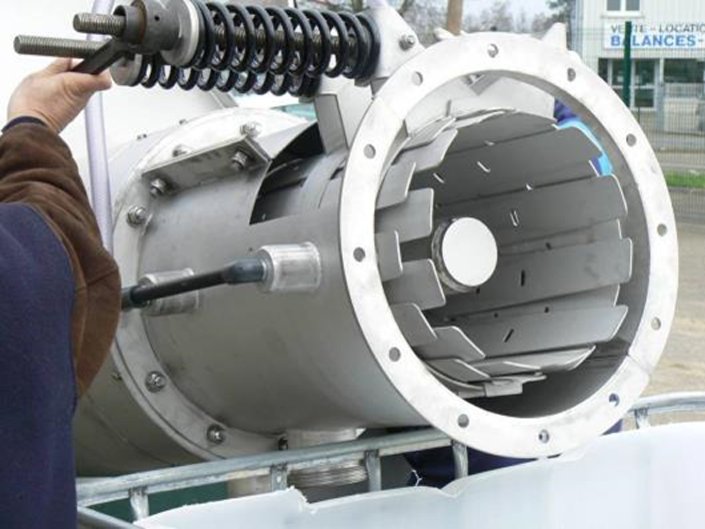 Adjustable Pressure Ring
All Virtus extractor/compactors are equipped with an adjustable pressure ring on the discharge. The ring adjusts the size and density of the compacted ring as it exits the unit.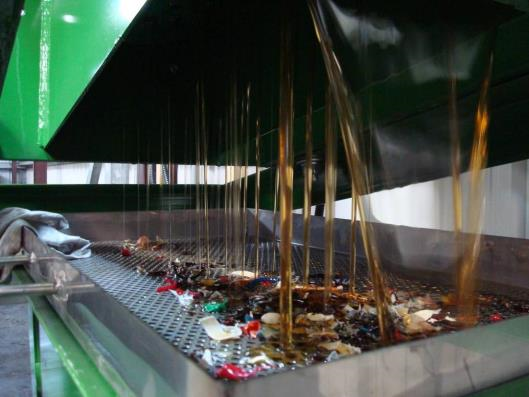 Liquid Screening and Collection
The LE extractor/compactors feature a screen above the collection bin to strain out large solids.
Specifications
| LE Series |   | 150 | 400 | 2000 | 2500 |
| --- | --- | --- | --- | --- | --- |
| Hopper Capacity | L | 150 | 400 | 2000 | 2000 |
| Auger Speed | mm | 6 - 10 | 6 - 10 | 6 - 10 | 4 - 15 |
| Torque | Nm | 2000 | 8000 | 19000 | 25000 |
| Drive Capacity | kW | 2- 5.5 | 5.5 - 7.5 | 7.2 - 22 | 7.5 - 22 |
| Throughput | kg/hr | 500 | 2200 - 4400 | 6600 - 9900 | |
| Dimensions | | | | | |
| Length | mm | 1600 | 2400 | 3500 | 3500 |
| Width | mm | 750 | 1000 | 2000 | 2000 |
| Height | mm | 1000 | 1100 | 1000 | 1000 |
| Weight | kg | 700 | 1400 | 3500 | 4000 |