Use as your central granulator for in-house recycling

E Economical Granulators Advantages
Knives are adjusted outside of the machine
Mobile Compact design
Different rotor types available
Easy accessibility
Strong tangential infeed
Download E 30 Brochure Download E 50 Brochure Download E 70 Brochure
General Description
The completely welded cutting chamber in conjunction with the "V" type rotor design ensures dependability in operation and universal application use. The housing design offers easy and quick access to the cutting chamber during rotor and stator knife changes, servicing or screen changes.
Applications
The E series are economical granulators designed for use as the central granulator for medium volume, in-house recycling. The cutting geometry of the E series allows for small thin-walled, bigger hollow pieces or voluminous materials to be ground. The complete E series line achieves a high quality regrind independent of the material type or form such as wood, coconuts, grasses, paper and cardboard, etc.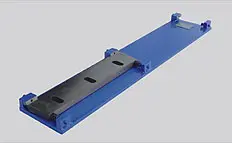 Knives
Rotor and stator knives are pre-set outside the machine prior to installation in a supplied fixture. This makes awkward adjustment inside the machine unnecessary.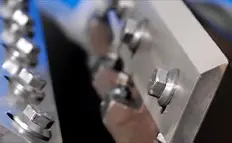 Rotors
The E granulators are available with different rotor options to fit different applications, all rotors feature the V-cut technology creating a high quality regrind.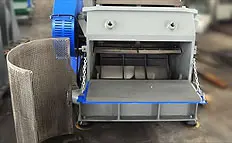 Sturdy Construction
The base of the E 70 series makes the machine very sturdy, while maintaining the easy accessibility for maintenance and cleaning.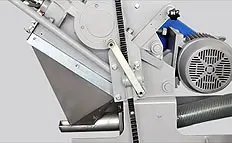 Quick Access
The E series granulators' user-friendly design allows quick and easy access to the cutting chamber for maintenance and cleaning.
Specifications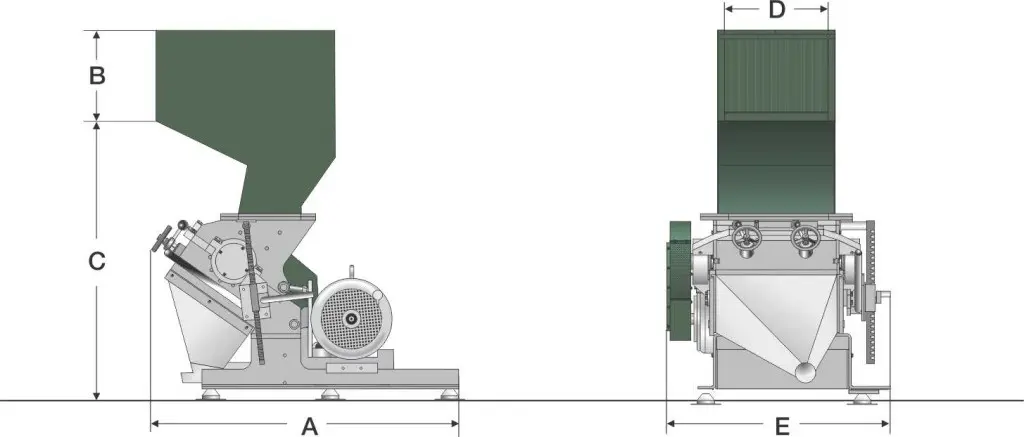 | E Series |   | E30-60 | E30-100 | E30-140 |
| --- | --- | --- | --- | --- |
| Rotor Diameter | mm | 300 | 300 | 300 |
| Rotor Width | mm | 600 | 1000 | 1400 |
| Drive Capacity | kW | 11 | 18.2 | 22 |
| Rotor Knives | row | 3 | 3 | 3 |
| Stator Knives | rows | 2 | 2 | 2 |
| Screen Size | mm | >6 | >6 | >6 |
| Effective Working Area | mm x mm | 400 x 590 | 400 x 990 | 400 x 1400 |
| | | | | |
| Dimensions | | | | |
| A | mm | 1695 | 1275 | 1380 |
| B | mm | 450 | 450 | 460 |
| C | mm | 1420 | 1420 | 1450 |
| D | mm | 590 | 990 | 1400 |
| E | mm | 1375 | 1620 | 1985 |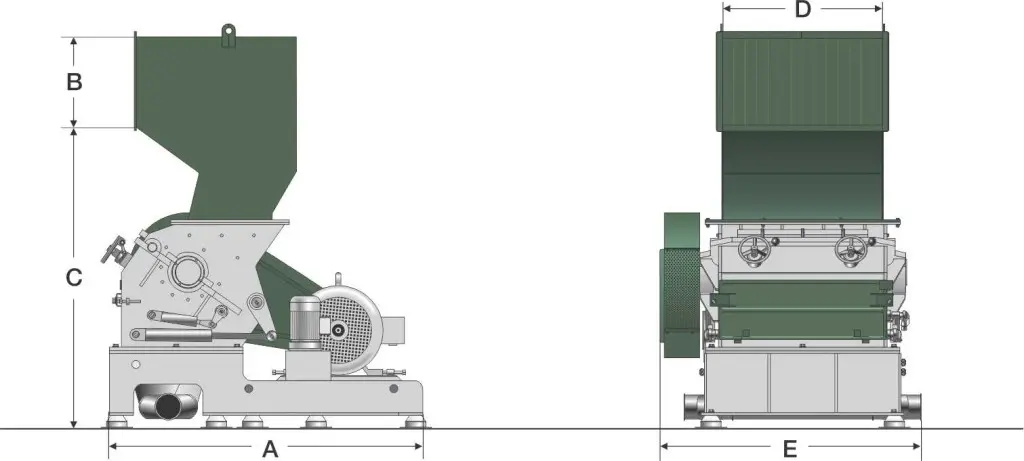 | E Series |   | E50-50 | E50-70 | E50-100 | E50-140 |
| --- | --- | --- | --- | --- | --- |
| Rotor Diameter | mm | 500 | 500 | 500 | 500 |
| Rotor Width | mm | 500 | 700 | 1000 | 1400 |
| Drive Capacity | kW | 30 | 37 | 45 | 55 |
| Rotor Knives | row | 5 | 5 | 5 | 5 |
| Stator Knives | rows | 2 or 3 | 2 or 3 | 2 or 3 | 2 or 3 |
| Screen Size | mm | >6 | >6 | >6 | >6 |
| Effective Working Area | mm x mm | 560 x 500 | 560 x 700 | 560 x 990 | 560 x 1400 |
| | | | | | |
| Dimensions | | | | | |
| A | mm | 1675 | 1675 | 1900 | 2050 |
| B | mm | 580 | 580 | 580 | 580 |
| C | mm | 1840 | 1840 | 1840 | 1880 |
| D | mm | 515 | 715 | 990 | 1400 |
| E | mm | 1130 | 1330 | 1645 | 2000 |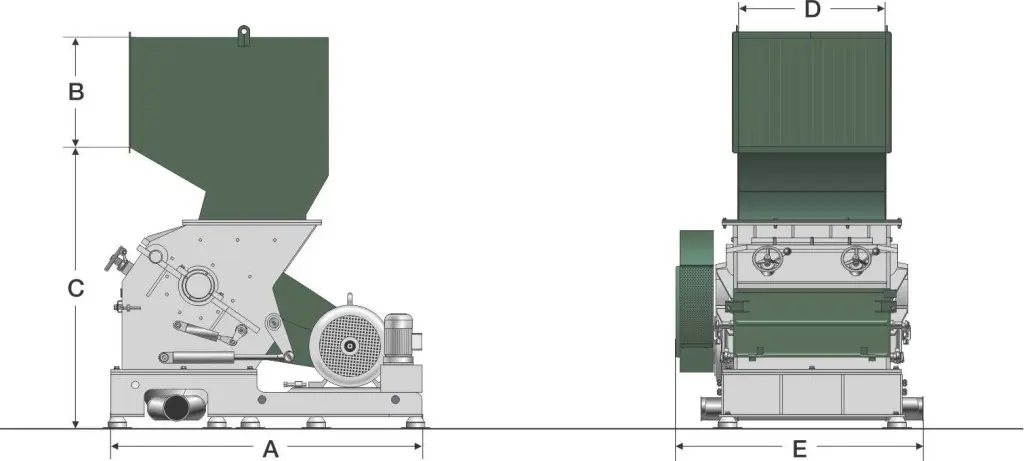 | E Series |   | E70-70 | E70-100 | E70-140 |
| --- | --- | --- | --- | --- |
| Rotor Diameter | mm | 700 | 700 | 700 |
| Rotor Width | mm | 700 | 1000 | 1400 |
| Drive Capacity | kW | 45 | 75 | 75 |
| Rotor Knives | row | 5 | 7 | 7 |
| Stator Knives | rows | 2 or 3 | 2 or 3 | 2 or 3 |
| Screen Size | mm | >6 | >6 | >6 |
| Effective Working Area | mm x mm | 720 x 700 | 720 x 990 | 720 x 1400 |
| | | | | |
| Dimensions | | | | |
| A | mm | 2050 | 2050 | 2205 |
| B | mm | 780 | 780 | 740 |
| C | mm | 2040 | 2040 | 2000 |
| D | mm | 715 | 985 | 1400 |
| E | mm | 1400 | 1670 | 2000 |