Waste to energy infrastructure development contractor, CNIM has ordered an additional two advanced automation systems from industrial technology supplier, Metso.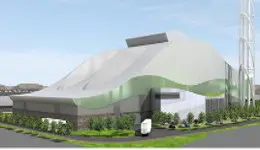 According to Metso, these represent CNIM's sixth and seventh repeat orders for its Metso DNA process control and plant information management system, which will provide automation for two waste to energy plants in the UK, one in Ardley, Oxfordshire and another in Cardiff – both owned and operated by Viridor.
The integrated process automation system covers all plant processes from boilers to turbines, and according to Metso offers a highly reliable, integrated, TUV certified solution.
The company explained that the system will play a significant role in managing the waste to energy plants successfully and helping them reach their goals of maximising incineration capacity, keeping combustion and steam production stable while allowing high availability of the production processes.
The Ardley plant will have an electric output of 24 MW and is designed to handle an annual amount of 300,000 tonnes of residual waste and is expected to be operational by the end of 2014
The Cardiff facility will treat up to 350,000 tonnes per year of residual waste, generating 30 MW of electricity and is planned to go on line at the beginning of 2015.
Metso added that its five similar orders from CNIM where for waste to energy plants in Turin (Italy), Tallin (Estonia), North Hykeham (Lincolnshire, UK), Four Ashes (Stafford, UK) and Great Blakenham (Suffolk, UK).
Source: Waste Management World