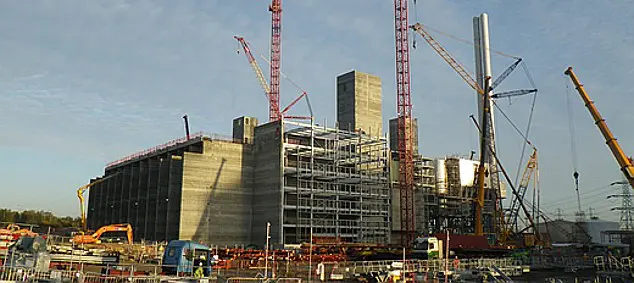 Swiss based waste to energy technology supplier and contractor, Hitachi Zosen Inova (HZI), has awarded the electrical installation contract work at its Ferrybridge Multifuel waste to energy power station in West Yorkshire,  to a Derbyshire based HCM Electrical.
HZI is the Principal Contractor for Multifuel Energy Limited, a joint venture project company between utility SSE and Wheelabrator Technologies – a subsidiary of Waste Management (NYSE: WM)
The company explained that it originally awarded the electrical contract work to NATUS, a long established medium sized German company that specialises in providing integrated electro-technical solutions.
Among worldwide reference projects of the company there are also many projects for waste to energy power plants, where NATUS took over the role of the general contractor for the complete electro-technical part. NATUS have chosen to subcontract a major share of the installation work to HCM Electrical,
HCM are expected to start the electrical work until summer 2014 on the contract, with around 25 people employed on site.
HZI said that during construction of the Ferrybridge Multifuel power station, it aims to subcontract work to local and UK companies wherever possible, integrating local services and suppliers into the project's construction.
Read More
FCC Bid to Send Residual Waste to Energy Recovery Preferred in Cheshire 
FCC Environment is expected to be named as the preferred bidder for an eight year contract under which it would send residual waste from Cheshire and Chester for disposal in the 68 MW Ferrybridge waste to energy facility currently under construction.
Loud Steam Blows Halt Commissioning Viridor's Exeter Waste to Energy Plant
Viridor has suspended the steam blowing process in the commissioning of its 60,000 tonne per year Exeter waste to energy facility following concerns expressed by some residents.
Lords: Massive Opportunity to Recover Materials & Energy from Waste in UK Bioeconomy
The UK could miss the opportunity to create a thriving multibillion pound economy around wastes, according to a report by the House of Lords Science and Technology Committee.