Bale Packing System BPS-2 provides excellent packing of different types of waste. It could be municipal solid waste (MSW), wood, construction waste and others. It is extremely useful to pack waste coming to landfills and store it for further usage by waste-to-energy technology. On the landfill, the municipal solid waste loses its energy content due to chemical processes. Being packed, MSW is sealed inside the bale and saves its energy content for further thermal treatment.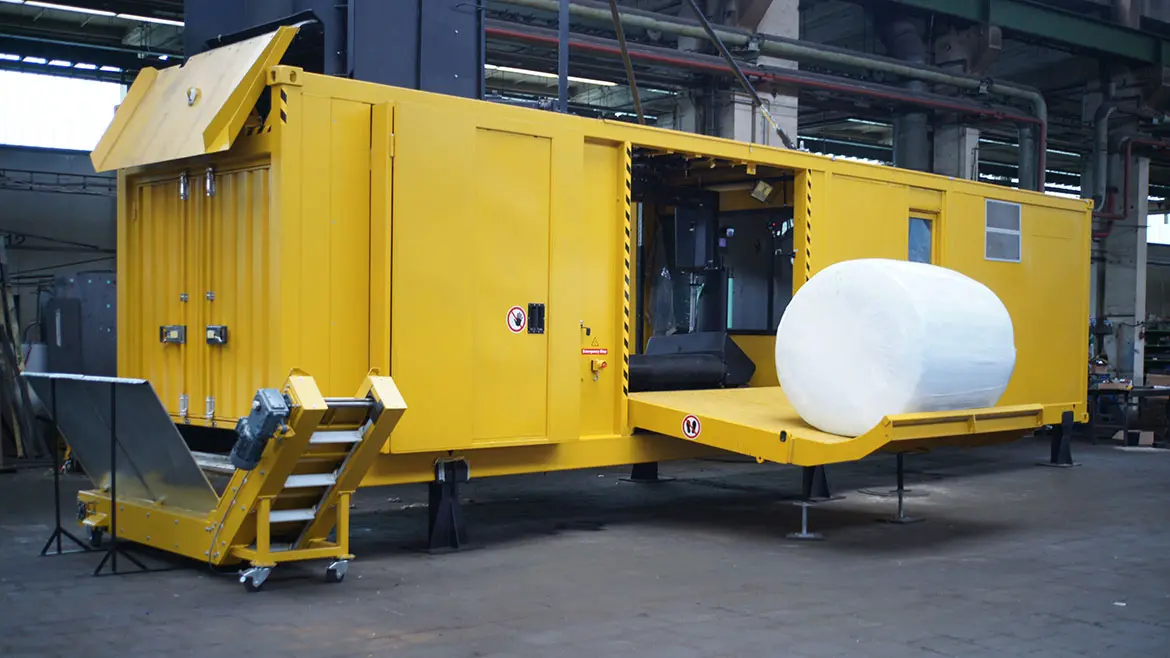 Bale Packing System Features
The Bale Packing System BPS-2 provides high compaction of waste to cylindrical round bales and their airtight wrapping with high tearproof film in safe cross bracing. Strips, nets, etc. are not required, and in spite of their large volume (up to 2.83 m³) and their large weight, the bales are dimensionally stable, transportable and storable. Even contaminated, but compressible waste can be packed, transported and stored environmentally friendly and harmless. No emission escapes from the bales. Furthermore, the BPS-2 comes along with fewer wearing parts – a definite reduction of operating costs.
Fields of Use
Environmentally friendly packaging of waste and recyclable material, e. g. domestic waste, commercial waste, substitute fuel, wood chips, bark, etc.
High compaction and production of cost-effective and environmentally friendly transport units, e. g. in waste transfer stations
Safe bale transport over short and long distances
Safe temporary storage even of pollutive waste
Bridging of overhaul phases in mechanical-biological waste treatment plants, MBS plants, waste incineration plants, RDF power plants, etc.
Bale Packing System Technical Specification
Characteristic
Value
Dimensions
40'' container, approx. 12.2 m (L) x 2.5 m (W) x 2.9 m (H) - with container locking
Energy Demand
Connected value: three-phase current, 400 V, 50 Hz
Connected load: approx. 100 kW
Average consumption: approx. 60 kWh
Weight
Approx. 23 t; with hydraulic lifting system: approx. 27.5 t
Operation
Wrapping process runs automatically. 1 plant operator for monitoring the process and for film change in the operator's room, additionally one worker for feeding and transport of bales.
Bale Dimensions
Cylindrical, 1.5 m diameter, 2.83 m³ volume (with 1.6 m height)
Preferably 1.4 - 1.6 m height; with optionally available adapter 1.2 m height
Bale Weight1
Approx. 900 kg (commercial waste, e. g. shredded mattresses, carpets, film, substitute fuel, wood chips, bark, etc.)
Up to 2,300 kg (domestic waste with high organic material, wet organic, etc.)
Film (at Press Vessel)2
(recommended)
Material
Width
Thickness
LLDPE
500 mm
0.025 mm
Colour
Adhesive Layer
UV-resistance
Transparent
one-sided
short-time
Film (at Wrapping Table)3
(recommended)
Material
Width
Thickness
LLDPE
500 mm
0.025 or 0.03 mm
Colour
Adhesive Layer
UV-resistance
Green
one-sided
possibly
1 depends on composition and specific gravity of waste/recyclable material
2 For domestic waste with 1.5m bale diameter and 1.6m bale height and assumed compressed density of 0.5 t/m³-0.8 t/m³
3 Deviations are possible in dependence on manufacturer
Summary of the most important BPS-2 Properties
Optionally for stationary use or with telescopic hydraulic lifting system for multi-site mobile use
Low consumption and operating costs, low wear
Low film consumption per unit of weight as a result of high density and large volume (2.83 m³/bale with 1.6m height)
High compaction of waste inside the press vessel by 2 hydraulically driven compaction rollers
High bale weight reduces transport frequency and saves personnel costs
Even in the open-air medium to the long term storage life of waste and substitute fuel
Prevention of gas and leakage of water emission
Preservation of physical properties of waste for further utilization
Prevention of spontaneous ignition of packed waste
Proven Expertise in alternative energy Development and Construction
Work With Us
We know how to get energy from the sun, air and waste. Let's build a better future for everyone, together!