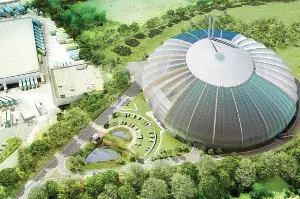 Veolia's planned 380,000 tonne per year waste to energy facility in New Barnfield, Hertfordshire has been issued an environmental permit by the UK's Environment Agency following consultation and a thorough assessment of any potential impacts.
The company – a part of Veolia Environnement (Paris Euronext: VIE and NYSE: VE) – explained that the permit details the Agency's requirements for monitoring operations and ensuring compliance to relevant waste directives and the limits set for emissions.
Veolia said that the limits relate to emissions to air, water and land as well as odours, noise and vibration.
The Environment Agency concluded that it is 'satisfied' that Veolia will 'carry out activities in accordance with the permit, without harm to the environment or human health.'
The application also includes a small scale healthcare waste transfer station. A small amount of healthcare waste (600 tonnes per year) will be incinerated.
Veolia welcomed the decision to issue a permit to operate its proposed Recycling and Energy Recovery Facility (RERF), which it said would generate 26 MW of electricity once fully operational.
Boost for recycling
According to the company, in 2010-11Hertfordshire's residents recycled over 48% of their household waste – the national average was 40%. However, the county still sent around 242,000 tonnes of residual municipal waste to landfill.
Veolia said that the proposed facility would have the overall capacity to process 380,000 tonnes of waste, not all of which will be incinerated, and will make a major contribution towards the delivery of ambitious targets for more sustainable waste management in Hertfordshire.
The facility as planned would use specialist mechanical processes, which the company said could recover over 7%, or 28,000 tonnes, of recyclable materials from the waste delivered to the site.
However, Veolia added that development of the facility is subject to planning permission, which will be considered by the Secretary of State following a public inquiry in September.
It is hoped that the facility will be operational within four years.

The decision
Explaining the decision, environment manager at the Environment Agency, Debbie Jones commented: "After carefully considering all of the responses from the community made during the consultation period, we have decided to issue the environmental permit.
"We are satisfied it contains the necessary conditions and control measures to ensure the protection of people's health and the environment," she contained.
Jones added that should the New Barnfield energy from waste incinerator be built, the agency will monitor its environmental performance, including emissions to air, to ensure that it meets its permit conditions.
Keith McGurk, regional director for Veolia, commented: "The decision to grant our permit recognises that this facility is a crucial part of Hertfordshire's strategy to minimise the amount of waste sent to landfill – a response to both cost and environmental pressures."
Source: Waste Management World, Veolia News
Read More
13.6 MW Plasma Gasification Waste Project to Demo Fuel Cells
Waste2Tricity is to develop a 100,000 tpa waste to energy plant featuring plasma gasification and fuel cell technology.
5.6 MW Landfill Gas to Energy Project in Ireland
Clarke Energy is to develop a 5.6 MW landfill gas power plant at the Drehid Landfill site in the Republic of Ireland.
Industry Sees RED as Biofuel from Waste Hindered by Double Counting
The double counting mechanism proposed for biofuel feedstocks is ineffective to kick start advanced technologies according to a new report.