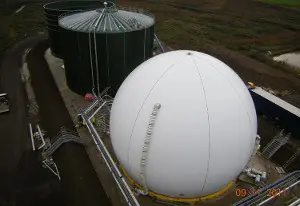 Lancashire, UK based Kirk Environmental, which supplies tanks and gas storage solutions for anaerobic digestion biogas facilities, is set to install a concrete digestion tank and double membrane roof at a new on farm biogas facility in Gisburn, Lancashire.
Once complete the facility will co-digest a combination oforganic waste from four farms and energy crops. Digestate produced by the anaerobic digestion process will then be used to fertilise the land used to cultivating the energy crops.
The wastes to be treated at the plant will come from four farms surrounding the site: Wilcross Farm, Watt Close Farm, Yarlside Farm and Lane Ends Farm.
Kirk Environmental explained that the plant will be constructed adjacent to a group of modern agricultural buildings at the rear of Wilcross Farm, and the other three locations will be no more than four miles from the plant.
The company explained that Wilcross Farm was chosen as the location for the AD facilities mainly for its central location in relation to the other farms, but also because of good transport links around the area, the absence of any significant visually sensitive receptors and its close proximity to a suitable connection point to the National Grid.
For its part, Kirk Environmental will supply one 300m³ Concrete Digestion Tank complete with a 1430m³ BIODOME® double membrane roof.
Overall the plant is expected to process some 10,000 tonnes of feedstock per year and generate 500 kW of electricity which will be exported to the National Grid.
According to the company the project is set to commence in September 2013 and will take around six months to complete.
Read More
Recycling & Waste to Energy Gasification Plans Approved in Walsall, UK
A 300,000 tonne per year waste to energy facility that will use gasification technology to process residual waste in the UK's West Midlands has been awarded planning permission by Walsall Council.
New impact crusher increases biogas yields from organic wastes
Lindner has launched a new generation of vertical crushers that can improve biogas yields and increase the variety of biomass input materials that can be processed.
VIDEO: The Art of Textile Recycling at LMB in London
The Great Recovery has published a video explaining how East London based textile recycling company LMB Recycling is processing waste clothing for reuse and recycling overseas.