Denver, CO (PRWEB) September 15, 2011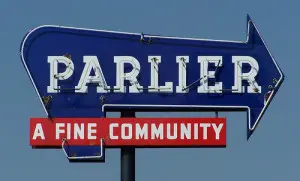 Conergy's Solar Large Projects Group has partnered with solar developer Enfinity to complete a three-acre solar energy park for the municipal waste water treatment plant in Parlier, California. Enfinity developed and financed the installation, and selected Conergy to provide solar EPC and O&M services, along with a bankable warranty wrap and guarantees needed for structured financing. Using Conergy's P-235 solar modules, the solar park will annually produce 984,529 kWh of clean solar energy – equivalent to reducing CO2 levels by 646,682 pounds per year.
Facing the same financial challenges as many municipalities across the USA, the City of Parlier chose its waste water treatment plant as the most suitable location for a solar energy installaton. The objective was to establish a viable source of renewable energy to help decrease the city's high electricity costs. Using a Power Purchase Agreement (PPA) financing structure, the system will offset the city's electricity costs by $ 7 million over the life of the contract.
Enfinity and Conergy's Solar Large Projects Group have a long-standing relationship in providing cost-saving solar energy parks to their customers – To date, more than 14 solar PV systems have been developed with Conergy fulfilling EPC & O&M services and Enfinity providing the financing for the projects.
Conergy's David Vincent, Project Development Manager stated, "Conergy's EPC expertise combined with Enfinity's financing experience makes solar energy widely accessible. The unique solutions Conergy offers works perfectly for smaller cities and other entities, such as schools and non-profit organizations. This project will help California, and Parlier in particular, to reach its solar energy goals."
"In the City of Parlier, we appreciate the efficiency of working with Conergy/Enfinity in the planning and development of our Wastewater Treatment Facility Solar Project", said Lou Martinez, Parlier's City Manager. He continued "The City of Parlier is a historically agriculture-based economy and the use of Solar is a sensible and financially logical solution in these trying economic times. Other neighboring cities are paying attention to our project and we are pleased to demonstrate an assured confidence as plans have progressed."
Enfinity Americas CEO Rafael Dobrzynski commented "This project is yet another example of how municipalities can benefit from making solar energy plants part of their existing infrastructure. The pay-off is clear; predictable, long term electricity rates without having to incur capital costs for the installation. It's a highly effective model."
From planning, financing and engineering to procurement, construction, permitting, and maintenance, the Conergy Solar Large Projects Group provides turnkey solutions to meet a continuum of renewable energy objectives. As part of Conergy's service offerings as a solar energy project consultant, the company offers turnkey solutions, including free pre-planning services. To every project, the Group brings its experience in developing power plants around the world from a 10 MW system for a Michelin manufacturing plant which at the time of interconnection was the largest rooftop installation in the world to 20+ MW installations in Spain and South Korea. In the United States, the Solar Large Projects Group team brought online a 2 MW ground-mounted photovoltaic installation at the Fort Carson U.S. Army base in Colorado, a 3 MW ground mounted photovoltaic installation in Pennsylvania for Exelon and a 1.6 MW tracker system in California for the South San Joaquin Irrigation District along with numerous projects in the agricultural, commercial and industrial sectors.
About Conergy USA
As a full system manufacturer, Conergy Group delivers solar energy systems from a single source and offers all services under one roof.
Through deep-rooted operations in 18 countries, Conergy System Sales sells premium Conergy products to customers in nearly 40 countries worldwide. Conergy supports homeowners, installers, wholesalers and investors in their efforts to "go solar." With local sales activities on five continents, Conergy has close relationships with all its customers. Listed on the Frankfurt stock exchange, Conergy employs more than 1,700 people worldwide. Since Conergy's founding in 1998, it has produced and sold more than 1.5 GW of clean solar power, and developed over 500 MW of solar parks.
Conergy's Solar Large Projects Group manages the planning, financing, installation, monitoring, and ongoing operations and maintenance for turn-key solar projects across the globe. Conergy's broad project expertise ensures maximum performance from every Conergy power plant..
Through its acquisition of well-established local companies, Conergy began operating as a distributor and project developer in North America in 2005 and currently has five offices, four warehouses and three production sites in the region. In North America, Conergy is both a manufacturer and wholesaler. Conergy manufactures mounting systems in Sacramento, CA.
In Ontario, Canada Conergy produces modules and mounting systems that meet local content requirements for the Provincial FIT. Conergy offers innovative products and tailored services to its North American network of system integrators and project developers. Through these activities, Conergy maintains expert knowledge about local market conditions and requirements.
About Enfinity
Founded in 2005, Enfinity is an established leader in renewable energy (the sixth largest in the world in its sector), with operations in Europe, North America and Asia-Pacific. The company finances, develops and builds solar PV projects and also owns its own portfolio of renewable energy installations. Enfinity has been selected to build some of the largest renewable energy projects across the globe, with 200 MW installed and operational worldwide. Further information is available at http://www.enfinitycorp.com
###
©Copyright 1997-
, Vocus PRW Holdings, LLC.
Vocus, PRWeb, and Publicity Wire are trademarks or registered trademarks of Vocus, Inc. or Vocus PRW Holdings, LLC.