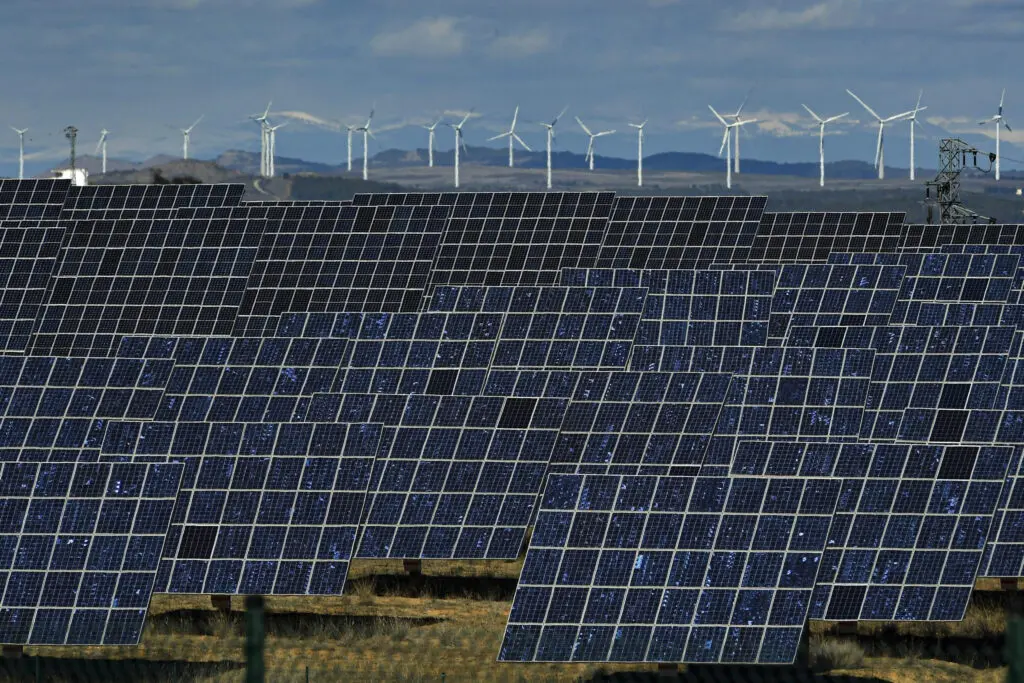 According to new analysis by the climate think-tank Ember, wind and solar power supplied more of the European Union's electricity than any other power source in 2022 for the first time ever.
Together, they provided a record one-fifth of the EU's electricity, a larger share than gas or nuclear. This achievement was due to record additions of new wind and solar power, and this helped Europe to survive the "triple crisis" created by restrictions on Russian gas supplies, a dip in hydro caused by drought, and unexpected nuclear outages.
The power deficit created by the latter was filled with solar and wind while falling electricity demand accounted for the rest. Additionally, coal's growth over the past year has stagnated – welcome news for those of us in the renewables industry.
In terms of concrete figures, solar generation across the continent rose by nearly a quarter in 2022, helping Europeans to avoid €10bn in gas costs. Ember's figures show that over two-thirds of Europe marked new records in solar generation, including the Netherlands, Spain, and Germany.
Predictions
Given the unbroken trajectory of the trends, it's expected that wind and solar growth will continue to increase over the course of 2023, especially in light of many countries experiencing a new solar boom. In countries worst hit by the 'triple threat', such as the UK, the solar industry is seeing domestic demand outstrip supply for the first time in years as homeowners battle the rising cost of grid-based electricity.
Given all of the above, it's anticipated that fossil fuel power generation could drop by an unprecedented 20% in 2023, double the previous record observed in 2020.
An unexpected silver lining to the unstable geopolitical backdrop is that Europe's transition to renewables is accelerating at a pace that nobody could've imagined.
New records
Wind and solar generated a record 22.3% of EU electricity in 2022, overtaking nuclear (21.9%) and gas (19.9%) for the first time. This follows wind and solar overtaking hydropower in 2015 and coal in 2019.
Before the invasion of Ukraine, Europe sourced a third of its gas from Russia. However, the outbreak of war saw Russia restrict gas supplies to Europe and new EU sanctions on oil and coal imports from the country. Despite the upheaval, EU gas generation remained stable in 2022 compared to 2021, as gas was already more expensive than coal in most of 2021.
The creation of a crisis
Last year, Europe faced the perfect storm as freak events added to the energy pressures caused by Russian aggression.
A once-in-500-year drought across Europe, for example, led to the lowest level of hydro generation since the turn of the millennium and there were widespread unexpected French nuclear outages just as German nuclear units were closing. This created a gap in generation equal to 7% of Europe's total electricity demand.
Most of this gap was met by wind and solar generation, along with a fall in electricity demand, driven by a combination of mild weather and public efforts to reduce energy use. From May to August, solar provided 12% of the EU's power, exceeding 10% for the first summer in history.
Of all the 'top performer' nations in Europe, Greece takes the crown. In October of last year, Greece hit a new milestone for five hours of continuous renewable power and the country is now on track to reach its 2030 solar capacity target by the end of this year.
Industry reaction
Ember's Head of Data Insights, Dave Jones, reports that the turbulence of the traditional energy markets has "undoubtedly sped up Europe's electricity transition". He says that "Not only are European countries still committed to phasing out coal, they are now striving to phase out gas as well. Europe is hurtling towards a clean, electrified economy and this will be on full display in 2023. Change is coming fast, and everyone needs to be ready for it."
Reaction to the newly released figures has been swift with industry figures welcoming the new data.
Dulas's Managing Director Ruth Chapman states that "Everybody suspected that we'd see a tilt towards greater renewable generation, but I don't think anybody could've suspected that the uptick would be so pronounced."
"The newly released figures serve as a great source of optimism and I strongly share the belief that most European countries will smash their targets well ahead of time."