New Jersey based waste to energy firm, Covanta (NYSE: CVA), has signed a new agreement with the City of Boston for the disposal of 140,000 ton (127,000 tonnes) of waste per year in its Massachusetts waste to energy plant.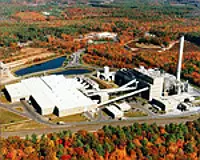 Covanta explained that the five year contract begins on 1 July this year, and continues its 14 year partnership with the City of Boston.
The company added that its waste to energy facilities enable Massachusetts communities, including Boston, to divert their municipal solid waste fromlandfill and generate enough electricity to power 120,000 homes in the state.
The Southeastern Massachusetts (SEMASS) Resource Recovery Facility (pictured), operating as Covanta SEMASS, which serves the Boston area, has a capacity to process around 3000 tons (2700 tonnes) of waste per day.
According to Covanta, the facility also recovers nearly 50,000 tons (45,350 tonnes) of recyclable metals from a combination of pre-combustion magnets and bottom ash annually.
The company added that it owns and/or operates four waste to energy facilities and seven transfer stations in Massachusetts.
In total, these facilities process more than 2 million tons (1.81 million tonnes) per year of solid waste generated by residential and commercial customers throughout the state.