LONDON:  Global GDP could grow by as much as US$2.6 trillion annually by 2030, if governments worldwide prioritize energy efficiency across a number of sectors and adopt clean transport, the World Bank has found.
The eagerly anticipated new report, which the World Bank conducted in partnership with the ClimateWork Foundation, argues addressingclimate change today will secure future growth and prosperity for all. But a failure to counter the rise in global temperatures will threaten stability of the economic system and jeopardize progress toward ending extreme poverty, the organization warns.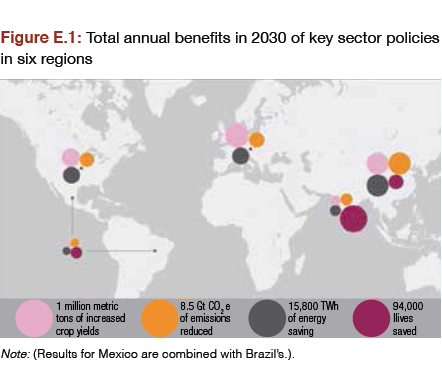 Utilizing a new modelling framework, 'Climate Smart Development: Adding up the benefits of actions that help build prosperity, end poverty and combat climate change' examines how ambitious climate mitigation policies could affect the European Union, Brazil, China, India, Mexico and the United States. The report is broad in scope, with schemes relating to transportation, industry, buildings, waste and cooking fuels all evaluated.
The research indicates that by implementing policies which support clean transport and energy efficiency, governments could increase global economic output by around US$1.8-2.6 trillion a year by 2030, as well as improve the health and wellbeing of citizens worldwide. The economists believe as many as 94,000 lives could be saved annually in 2030 if the measures which tackle pollution effectively were introduced.
Furthermore, if adopted fully, the comprehensive plan could achieve a 30% cut on the total global emission reduction necessary to curtail warming to the 2 Celsius limit in 2030.
SCALING UP
In addition to the broader analysis, the new report examines how scaling up three existing projects in India, Brazil and Mexico could mitigate further warming, while also stimulating economic growth.
In India, if bus rapid transit lanes were increased by 1,000 kilometres, analysts project 27,000 lives would be saved through improved air pollution levels and road safety. In addition to environmental and health benefits, 128,000 jobs would also be created.
Similarly, if Brazil ensured all waste was sent to sanitary landfills, electricity could be generated from the methane gas and biogas collected. This would raise national GDP by over US$13.3 billion, while simultaneously generating employment for 44,000 people.
In the final case study, Mexican GDP is forecast to grow by US $1.1 billion, while agricultural energy use would decrease by 11% if the majority of pig and dairy farms installed solar and biogas energy systems.
In fact, if the projects in Mexico, Brazil and India were expanded accordingly and a hypothetical Chinese scenario implemented, CO2 equivalent emissions could be cut by up to 520 million metric tons – with over 1 million lives saved.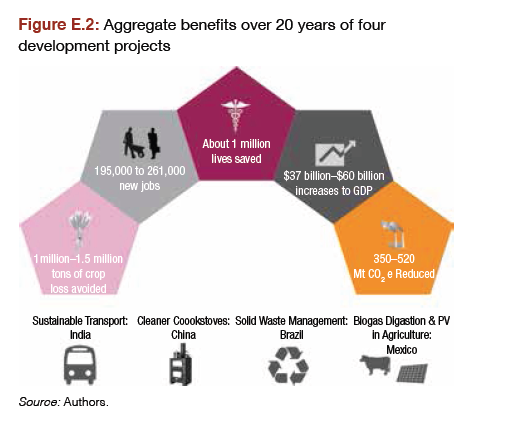 INTERNATIONAL CLIMATE NEGOTIATIONS
The publication of the report comes at a pivotal moment in international climate negotiations. In September this year world leaders will gather in New York for the UN Climate Summit, an important milestone in the run up to the 2015 UNFCCC Conference of the Parties in Paris.
"The September Climate Summit provides a critical opportunity for world leaders to be on the right side of history, tochampion ambitious action that not only cuts carbon pollution, but also delivers jobs and economic opportunity", Jim Yong Kim, President of the World Bank Group stressed.
Commenting on the new report, Mark Kenber, CEO of The Climate Group, remarked: "Climate Smart Development demonstrates with macroeconomic rigour the truth of what organizations like The Climate Group have been saying for over a decade and hundreds of businesses and sub-national governments have been demonstrating through their actions: that not only is there no trade-off between economic development and climate protection, but that the two are mutually reinforcing."
"The World Bank and ClimateWorks have provided essential tools for quantifying this opportunity; it is now up to governments in New York, Lima and Paris to ensure they capture the prize of low carbon prosperity for all."