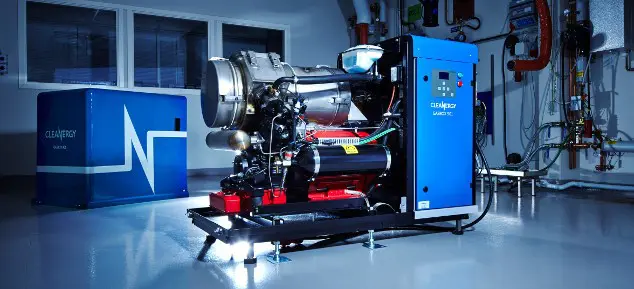 Swedish renewable energy technology developer, Cleanergy, has commercially launched a Combined Heat and Power (CHP) generator is able to use poor quality landfill gas with as little as 18% methane to fuel a Sterling engine.
The company explained that the modular GasBox is particularly suited to old landfill sites, where the methane content of the biogas being produced has reduced to a level insufficient for use in traditional gas engines.
Cleanergy said that its GasBox has been specifically developed to generate electricity and heat from methane gas being emitted at the 1900+ landfill sites in Europe which are more than 10 years old. Currently, the methane gas at these sites is mainly burned at source to prevent it from entering the atmosphere.
The European Union Landfill Directive of 1999 states that flaring is only an option if it is impossible to extract energyfrom the methane gas. However, according to Cleanergy, up until now, older landfill sites have often broken this because the gas combustion engines traditionally used at newer landfills where methane levels are above 40% simply cannot produce electricity from lower grade, 'dirty' methane.
Sterling technology
According to the GasBox's developer, the Stirling engine is unique in its ability to provide efficient conversion of thermal energy – either from the combustion of gas or from concentrated solar – into heat and electricity.
It achieves this by heating and cooling a 'working gas' which causes a cycle of expansion and contraction that is used to push the pistons up and down and in turn to spin a crankshaft round and round.
In the GasBox this cycle occurs around 25 times per second, with the working gas being heated to 700°C and cooled to 80°C on each revolution.
Installed inside a modular container, Cleanergy said that its GasBox is both autonomous and flexible. A real-time power management system with remote access is also housed in the container, as is a fuel pipe and a heat and electrical connection for on-site power and optional grid functionality.
Power output is capped at 9 kW per GasBox engine unit.
"There are a myriad of Combined Heat and Power (CHP) systems available for generating electricity and heat from newer landfill sites, but once the quality of the methane decreases, the only option has been flaring," said Anders Koritz, CEO of Cleanergy. "Our GasBox extends power production at landfill sites by around 20 years."
Installations
According to the manufacturer the system has already been commercially deployed at several locations in Sweden in collaboration with the Swedish Energy Agency, as well as at the Yggeset waste disposal park in Asker, Norway. Energy produced by the GasBox is being used to power equipment and to heat and electrify buildings.
"Our landfill is 32 years old and now producing low-grade methane," Thorleif Eriksen, manager at the Yggesetrecycling park.
According to Eriksen the system was quick and easy to install and generates enough electricity and heat for the facility's needs.
"We were somewhat sceptical at the start of this trial but are now convinced about the performance," he added.
Cleanergy added that the GasBox system has also been installed at closed landfill sites in Norfolk, Shropshire and Yorkshire in the UK, as well as in Poland, as part of the part funded EU LIFE+  funded ACUMEN project aimed at demonstrating novel techniques for managing methane emissions from closed landfill sites.
The manufacturer said that its GasBox wass the first power technology that has been selected for evaluation.
Finance
Cleanergy claimed that the GasBox offers landfill owners a return on investment of around three to five years.
The company itself has so far raised over $60 million, from investors including Jim O'Neill, the former chairman of Goldman Sachs Asset Management, the Wallenberg family of Swedish industrialists and the Nobel Foundation.
According to the company, there are also potential opportunities beyond landfill gas, as the technology enables the use of raw biogas from both farms and waste water treatment plants to be used directly from source without processing.
Cleanergy added that it is currently actively expanding its distribution partner network and welcomes applications through its website.