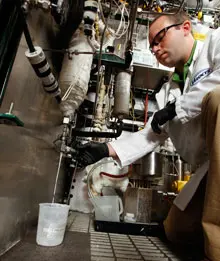 Houston, Texas based Waste Management, has formed a joint venture company to produce renewable fuels and chemicals from biogas and natural gas using smaller-scale Gas-to-Liquids (GTL) technology.
In creating the joint venture, the company (NYSE: WM) has joined forces with Pasadena, Texas based refineries specialist, Ventech Engineers International and  Princeton, Texas based clean energy company, NRG Energy (NYSE: NRG) and Houston, Texas based GTL technology developer Velocys (LSE: VLS).
Velocys explained that the JV will pursue the development of multiple plants utilising a combination of renewable biogas (including landfill gas) and natural gas. Waste Management intends to supply renewable gas and, in certain cases, project sites.
WM said that it currently uses smaller-scale GTL to process landfill gas at a demonstration unit at East Oak landfill in Oklahoma, which has accumulated more than 10,000 hours of successful operation.
According to Joe Vaillancourt, vice president, corporate venturing at Waste Management, the company has been responsible for developing gas recovery and cleanup techniques, and has registered GTL diesel as a fuel for on-highway use.
As the engineering contractor, Ventech's role has been to optimise the design and engineering of the joint venture's first facility.
Kevin Stanley, chief executive officer of Ventech Engineers International said that Ventech brings expertise in the development of modular construction and specialised fabrication of refineries, gas processing systems and chemical facilities to the joint venture.
John Ragan, executive vice president and regional president, Gulf Coast, NRG explained that for its part NRG brings experience in developing large renewable capital projects and expertise in the acquisition and transportation of large quantities of natural gas.
Velocys meanwhile, will supply the Fischer-Tropsch reactor and catalyst to the joint venture.
Roy Lipski, chief executive officer, Velocys said that the company has more than fifteen years of development experience and has made over $300 million of investment, in the world's largest microchannel patent portfolio.
The joint venture's first facility is under development and will be located at Waste Management's East Oak site in Oklahoma.
WM added that the joint venture intends making a final decision to proceed on this first plant this year, but that engineering and design work is substantially complete, final draft permitting documents have been submitted, and development activities for additional facilities are expected to commence shortly.
All four members will work exclusively through the JV to pursue the intended application (GTL using renewable gas, optionally in conjunction with natural gas) in the United States, Canada, United Kingdom and China.
Read More
Valmet Supplies First for Kind Gasification Plant Producing Biofuel for Transport in Sweden
The Gothenburg Biomass Gasification Project, which features a gasification system supplied and installed by Valmet, has been officially inaugurated.
Covanta Secures Organic Waste Contract from Oldest Theme Park in U.S.
Covanta is to manage organic waste from Lake Compounce theme park in Bristol, Connecticut following an agreement with the park's owner, Palace Entertainment.
Researchers to Study Waste Molecules to Boost Biogas & Chemical Production
Verliant Sciences has teamed up with the University of California to analyse the separation of the molecular constituents of various waste streams for renewable energy and biomedical applications.