In Riyadh, every drop counts…
By Clarence Rodriguez-Vidal (Riyadh correspondent)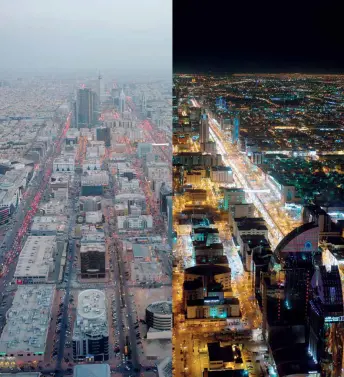 Saturday, February 23, 12:05 pm. The muezzin in the King Fahd district, in northern Riyadh, calls the faithful to prayer. The week is only just beginning and the city is gently stirring after the weekend. It is time for the dhuhr, the second prayer of the day. Men approach the mosque in small groups. Abdullah A. Al Awah is one of them, a man with a small stature and easy gait. With his white thawb and his red and white checked kaffiyeh, he proudly sports the traditional public attire of Saudi men. His weathered, sun-tanned face makes him seem a little older than his 55 years. In this kingdom of two million square kilometers, temperatures can reach 60 degrees Celsius in the month of August and rainfall is rare—so rare that the rains seem to mark the passage of time. Abdullah still remembers the last downpour that brought Riyadh to a standstill:
Though it was a tiny oasis just 100 years ago, Riyadh is now a fast-growing metropolis where huge shopping malls, luxury hotels and skyscrapers abound.
"It was early May 2010. The streets were flooded. It was a real deluge."
Abdullah is a Bedouin who immigrated here 20 years ago, after living three quarters of his life camping in the desert. He was born in the date-producing province of Al Qassim, 400 kilometers northwest of the city. In the early 1990s, he decided it was time for a drastic change in lifestyle, both for himself and his family:
"I came to Riyadh in search of a more comfortable life for my children, my wives and my parents."
Abdullah now owns two houses (500 and 600 square meters), which are considered average in a country where everything is supersized. He remembers one of his more vivid childhood memories:
"Up until the age of 10, I would fetch water from the well, which was a typical chore for a young boy. Nowadays, I take great pleasure in turning on the tap and using the water that flows out of it."
This is a simple, commonplace part of his everyday life today, but that is because Abdullah and his family are among the 400,000 Riyadh households that benefit from the drinking water network now being built in the Saudi capital. For the time being, all of Riyadh's residents use water from tanks on the roof of their homes and below gardens. When the network cannot provide enough volume, these reservoirs are supplied by blue tanker trucks. And the city continues to expand, with a population that has grown by 20% in the past six years! This obviously increases demand for connections to the drinking water supply and represents a real challenge for the authorities, and especially for the National Water Company (NWC), which oversees these vital developments.
Abdullah was only recently connected to the wastewater collection system, and it has improved his quality of life. As he explains:
"For over 20 years, like other people not connected to the network, I had to empty my septic tank regularly, which is a very unpleasant task."
To compound this particular problem, waste-collection companies were in the habit of dumping the contents of their tanker trucks in the middle of the desert.
Faced with water scarcity and the challenges of sustainable resource management, Riyadh is now looking at ways to reclaim and reuse its wastewater to provide future solutions. The policy pursued by the Saudi authorities in partnership with Veolia Water focuses on developing these solutions by equipping wastewater plants with treatment systems that allow water to be reused in industry and agriculture, and for watering parks and gardens. At present, only 10% of water from treatment plants is reused, but the technology should eventually be available to people like Abdullah, allowing him to keep both of his gardens green.
The end of "Nazeem Lake"
Not long ago, the city's wastewater was dumped at poorly regulated, open-air sewage ponds like the unauthorized dumping ground dubbed "Nazeem Lake" on Riyadh's eastern outskirts. Over the years, the "dump"—spanning some 5.8 million square meters (600 soccer fields)—grew into a huge, foul-smelling lake. In 2002, one of the first decisions announced by the NWC as part of its commitment to environmental protection, was to arrange official disposal facilities compliant with international regulations and to restore the site to its original ecological state.
This unprecedented clean-up campaign was completed in March 2012. Contaminants have been removed and the lake filled in, allowing camels to reclaim the site.
Riyadh City Business Unit: Educating through dialogue
The customer service department at the Riyadh City Business Unit (RCBU) is a vital service and a key part of the National Water Company (NWC) strategy. It provides users with a reliable, transparent, interactive information service and, above all, seeks to moderate consumption resulting from more widespread access to water. The agency focuses on promoting a long-term relationship built on trust. Joël Boutier, department manager for the past three years, points out the benefits of the service.
How do you moderate the use of something that comes to users "naturally"? This is the task given to the customer service department.
To achieve its goals, it must be readily available and easy to contact. Visitors should also feel welcome, even when they have to wait.
"That is why we set up the department in the Al Nuzha district, near the international conference center," explains Mr. Boutier. "You can't miss the huge drop of water in blue-tinted glass when you're on King Abdullah Road, one of Riyadh's main avenues."
Careful attention has also been paid to the interior. Inside, everything is perfectly designed to host customers, who come mainly to pay their bills, request information or Educating through dialogue file a complaint. As chance would have it, on the eve of our visit, the call center fielded 10,000 calls in one day from people complaining about problems with their water supply as a result of winter maintenance work. This is a rare occurrence: the department usually handles an average of 3,000 calls a day.
"The National Water Company has also created a showroom to share water use information with users. It covers simple, everyday situations, like how to wash your car and water your garden without wasting water. Other tips include not leaving the tap on while you're brushing your teeth or doing the dishes, etc. There is a whole range of simple, everyday advice for users. Water is incredibly cheap in Riyadh, which probably explains why people still don't pay enough attention to how much they use. We apply a sliding scale. For instance, prices per cubic meter can vary from €0.02, up to 50 cubic meters a month, to €1.30 for more than 300 cubic meters a month. We also provide watersaving balloons that people can put in their toilet tanks."

Joël Boutier
The RCBU's Customer service center provides ideal surroundings for listening to and informing users thanks to inviting design, an efficient call center, a water use showroom and more.
Yet that is still not enough to change people's behavior.
In line with the Ministry of Water and Electricity's bid to reduce daily water consumption per capita from more than 300 liters to 250 liters1, advertising is also a big help: campaigns include press ads, television commercials and billboards.
The message is clear and concise:
"If you shower in four minutes, you will save 130 liters."
This is the first such campaign for Riyadh and Saudi Arabia.
Fines are a last resort. If water officials can prove that users are abusing the system, they may impose a fine in the form of an extra charge on the customer's next water bill. The average fine stands at SAR200 (€40). Mr. Boutier concludes:
"We caught 400,000 infringements last year, compared with 75,000 in 2007."
1 Comparative data on other daily amounts include 250 liters per capita in North America, 100-130 liters per capita in Europe and 10 liters per capita in sub-Saharan Africa (source: CIEau – 2012).