Hanwha Q CELLS received the Carbon Footprint certificate by the French photovoltaic engineering company Solstyce.
Carbon Footprint certificate puts Q CELLS modules in the pole position for tenders in France
Q CELLS Q.PEAK and Q.PRO modules received certificate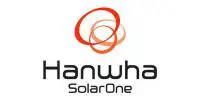 [Thalheim, Germany, August 12, 2013] – This certificate is one of the requirements solar companies have to fulfil in order to be eligible for participating in French tenders. The Q CELLS Q.PRO and Q.PEAK modules have received the certificate and are therefore proving again the modules' superior quality. The modules were calculated at 594.8 kgCO2 / kWc for the Q.PEAK mono crystalline modules and at 638.5 kgCO2 / kWc with regard to the Q.PRO poly crystalline modules – values emphasizing Hanwha Q CELLS' efforts to develop and manufacture top-quality products in an environmentally-friendly way.
The French government has opened participation in tenders for solar plants of more than 250 kW for a total volume of 400MW. Submissions can be handed in until September 16, 2013. The
Q CELLS modules are well positioned for securing high (Q.PRO modules) and maximum (Q.PEAK modules) gradings for the tender process.
Hanwha Q CELLS also received the Certisolis "Made in EU" certificate in March 2013 for manufacturing solar cells and solar modules comprised entirely of European components. This enables French customers to receive a bonus of up to ten percent on the French feed-in tariff. The certificate also demonstrates that European customers can rely on Hanwha Q CELLS to engineer and manufacture high quality products in Germany and within the European Union.
"Receiving the Carbon Footprint certificate enables us to participate in the tender for 400MW of power plants the French government has announced. The certificate is proof that our Q.PEAK and Q.PRO generations are delivering maximum yields and are of high quality. They also feature a low carbon footprint during production as well as the generation of clean and environmentally-friendly energy", said Stephan Maurel, Sales Director France at Hanwha Q CELLS.
About Hanwha Q CELLS
Hanwha Q CELLS is part of the South Korean Hanwha Group and one of the world's leading photovoltaics companies and offers a wide range of photovoltaic solutions, from solar cells and modules to solar power plants. Hanwha Q CELLS products are developed and manufactured at its headquarters in Thalheim (Germany) and marketed via its global sales network. It also has a second production plant in Malaysia. The close links between R&D and production enable Hanwha Q CELLS to rapidly translate innovation into mass production – and underpin its ambition to be at the forefront of photovoltaic technology. For more information, please visit: http://www.q-cells.com.
About Hanwha Group
Hanwha Group, founded in 1952, is one of the largest business enterprises in South Korea with 52 domestic affiliates and 90 global networks in three major sectors: manufacturing and construction, finance, and services and leisure. With a 60-year track record of industrial leadership, Hanwha's manufacturing and construction businesses encompass a broad range of fields from basic chemicals and advanced materials to property development and total solar energy solutions. The finance network, covering banking, insurance, asset management and securities, is the second largest non-bank finance group in South Korea. The services and leisure sector offers premium lifestyle services with retail and resort businesses. For more information, visit: www.hanwha.com.
Solar Energy employers, recruiters and job seekers can now post vacanices and/or upload CV's on our industry leading renewables job site. Please click on the logo below to get started.