Konecranes' CXT Biomass is a fully automated crane for handling different kinds of biomass.
The crane's optimized biomass software enables the power plants to be efficiently operated 24/7.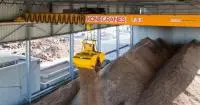 One of the big advantages with the CXT Biomass crane is that it's more compact than a traditional loader conveyor–based solution, which increases the fuel storage capacity of a plant. The crane is also more silent than conveyor-based solutions and also reduces dust and fuel emissions.

The crane is equipped with a range of Smart Features such as Slack rope prevention, which prevents the grab from tilting and hoist ropes from slacking. Sway control is a handy feature that dramatically reduces the average work cycle time by keeping the load stable and on its intended path. Another smart function that increases productivity is Extended Speed Range (ESR) that allows the hoist to run at a higher-than-nominal rated hoisting speed with empty grab, which significantly reduces cycle times.
Fully automated crane combined with top maintenance
The main task for the CXT Biomass crane is to handle fuels, such as peat, wood chips or communal waste. In short, the crane receives biomass from a tipping area and lifts it to a storage area or directly to a feeding hopper. The crane can also feed biomass from the storage area to the hopper.
Since biomass handling in automated plants is one of the most challenging tasks for heavy-duty cranes, operating in a continuous process, maintenance is a key factor to keep the process running.
Konecranes can offer comprehensive maintenance service through the company's global service network, with almost 420,000 pieces of equipment under maintenance contracts.
The maintenance services range from mandatory inspections to preventive or full-service maintenance and operation partnerships.
As a matter of fact, Konecranes can offer specialized maintenance and modernization services for all types of industrial cranes.
In addition to inspections and preventive maintenance programs, Konecranes also offers advanced diagnostics services, such as the Crane Reliability Survey, an engineering assessment of the current condition and future maintenance needs of cranes; RailQ runway assessment, as well as RopeQ wire rope analysis. These analyses provide customers with valuable information that can be used as a guide when planning future actions.
Tailored crane solutions to meet customers' needs
The CXT's compact design, high capacity and Smart Features were the main reasons it has been chosen by Scaldis, a specialist in handling bulk for continuous process industries. The company recently delivered a turnkey system for biomass handling in a big factory in France that diversified its steam production that is traditionally based on gas, which required a new biomass boiler.
In close co-operation with Konecranes the feeding system was customized to meet the factory's exact needs. The crane needed not only to have sufficient capacity to provide the boiler's consumption flow, but also to fit into the limited space inside the building. It also needed to be extremely reliable and adaptive, as it was intended to be the sole device to feed the boiler.
The new boiler started to deliver steam on its target date, and the client has been very satisfied with the performance of the feeding system.

Facts about CXT Biomass crane:
Typical conditions in biomass halls, like dust and high humidity, have been taken into account by having heaters for motors and inverters as standard features, rail sweeps in end carriages, and upgraded protection class for key components, like motors.
Electrical cubicles are usually placed on the bridge, but the control panel is brought to floor level for easy and ergonomic access. Optionally, cubicles can be placed in a customer's control room.
The optimal size of a hydraulic clamshell grab is selected based on a customer's process needs. The orange peel grab is also available.
The CXT Biomass crane is available in duty class M6 up to 10 tons and M7 up to 8 tons. If heavier loads or a higher duty class is needed, Konecranes has the GL crane series, which has proved its performance in various WTE plants around the world.
Crane classifications

Hoist for process use in duty class ISO M6 (FEM 3m) or M7 (FEM 4m)
Crane classification A6
Bridge travelling machinery class M6
Crane designed for ambient temperature from -10˚C up to +50˚C
Positioning accuracy for axial movements ± 100mm
Weighing accuracy ±5 % (as an option ±2 % is available)
Source: World Of Renewables