The start-up procedure has begun at a Diamond Green Diesel's new 9300 barrel (1.1 million litre) per day plant that will recycle animal fat and used cooking oil as well as corn oil into renewable diesel fuel in St Charles, Louisiana.
Diamond Green Diesel is a joint venture between Diamond Alternative Energy – a subsidiary of transport fuel and energy giant, Valero Energy (NYSE: VLO) – and Irving, Texas based Darling International (NYSE: DAR), which specialises in rendering fats and recycling food industry wastes.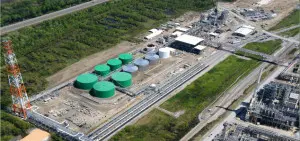 Valero is the world's largest independent refiner with expansive export and import capabilities. The Diamond Green Diesel facility has been strategically located adjacent to Valero's St. Charles refinery in Louisiana (pictured above), and connected to a major pipeline.
According to Diamond Green Diesel, the refinery uses cutting edge technology to convert approximately 11% of the entire U.S. animal fat and used cooking oil supply into a fuel that has the same properties as petroleum diesel, allowing it to integrate seamlessly with Valero's existing fuel infrastructure, with distribution via pipeline to their consumer base.
"This joint venture will be a producer of high quality renewable diesel capable of fulfilling the RFS2 biomass-based diesel mandate," commented Randall Stuewe, chairman and chief executive officer of Darling International.
"Our partnership with Valero will benefit Diamond Green Diesel through multiple operational synergies," he added.
Source: Waste Management World