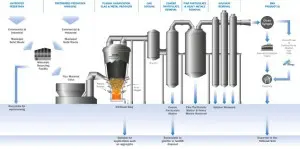 London based waste to energy solutions provider, Waste2Tricity is to work with Peel Environmental to develop a 120,000 tonne per year waste to energy facility that will utilise plasma gasification and will provide a demonstration platform for AFC Energy's alkaline fuel cells.
According to Waste2Tricity (W2T) the Bilsthorpe Energy Centre (BEC) will also feature a Material Recycling Facility (MRF) and will be cited on Bilsthorpe Business Park in Nottinghamshire.
Peel Environmental said that the facility will handle around 120,000 tonnes of non-hazardous waste each year and will recover up to 23,000 tonnes of recyclable materials and generate electricity from the remaining 97,000 tonnes of residual waste.
The company said that it is working in conjunction with its engineer AMEC and consultant Foster Wheeler to draw up plans for the advanced waste to energy plant that which is expected to export up to 10.2MW of electricity to the grid.
Currently in a Concept Design Study phase, once fully operational, it is hoped that the plant will produce nearly 109,000 MW hours of electricity a year – enough to power around 24,000 homes.
The plant will utilise internal combustion engines to convert the syngas created by the plasma gasification of wastes into electricity, but W2T said that it expects to also demonstrate fuel cell technology from Surrey, UK based low-cost alkaline fuel cell technology developer, AFC Energy as it becomes commercially available.
According to W2T, with the use of fuel cells instead of combustion engines to generate electricity, the equivalent plant would export 40% more electricity from the same amount of feedstock.
The company added that the project would use plasma assisted gasification technology from Westinghouse Plasma, to convert waste sourced from several suppliers including Energy Gap.
The Concept Design Study is set to be completed in August this year with Peel currently undertaking public consultation as part of the planning process.
Flagship project
The company explained that the project will be its 'Flagship' that it hopes to be able to replicate across the country and internationally.
"This medium-scale build forms part of our strategic programme to pursue similar opportunities in the UK and abroad," explained Peter Jones OBE, chairman of W2T.
"This Flagship project will also be replicated in a number of locations including Thailand. The fuel cell ready Energy Centre will represent an inward investment of approximately £70 million to the local economy and will contribute to and diversify the UK's energy generation capacity by creating a distributed low cost hydrogen and electricity network through the deployment of such systems around the country," he added.
The company added that it already has offices in Bangkok and is working with local companies to develop projects that will benefit from the Thai Government's forward looking Green Energy regime.
According to W2T, due to the country's expanding economy and subsequent issues with waste management and a shortage of power, Thailand is particularly keen to encourage such Green Energy developments.
Source: Waste Management World