Ray is an interactive light installation that can translate live data feeds into colorful conversations.
Ray is a solar-powered interactive light sculpture, which featured at Vivid Sydney in Australia last month. The illuminated art installation sought to raise awareness about the not-for-profit Pollinate Energy, who want positive change for India's urban poor through sustainable and renewable solar energy. They bring solar power to India's urban slum communities and give the inhabitants access to sustainable products that make their lives better.
Ray was powered by Pollinate Energy, who joined forces with designer duo amigo & amigo, interactivity designers S1T2, and experience design crew Wildwon to create a 'personality' and bring the talking light sculpture to life. It stood seven meters tall and was made up of 9,000 lights, 500 meters of silicon tubes and 1.5 tons of steel. Ray was powered by a 1.2-kilowatt 'Sunflower' solar array developed by Southern Cross University.
The towering structure, made up of strips of multi-colored light connecting to a base, showed off a whirlwind of color and light. Festival-goers could interact with it by pulling on ropes located in charging pods. The light sequence of Ray changed depending on how hard the ropes were pulled, so there would be different visual responses if a child or an adult tried it.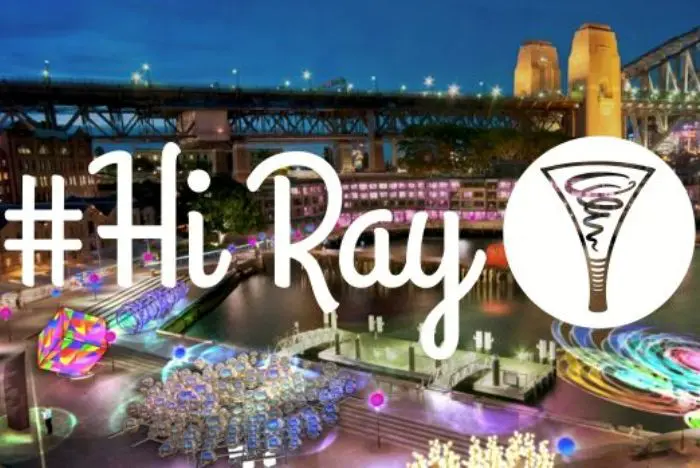 From the ends of the ropes, light streamed upwards to the top of the sculpture, and then it spiralled down in an impressive display of colors, patterns, sound and raw solar power. Ray gradually got fully charged from the colored lights pouring in, before overflowing in a surge of sound, light and color.
Ray also translated live data feeds into colorful conversations through a website and social media channels. The solar-powered sculpture sent out updates on data relating to its surroundings, charging state, emotion and the air quality.
To interact with Ray online, people could visit HiRay.com.au or say #HiRay via Twitter, Instagram or Facebook to talk to him about his day and view lots of photos of the installation. Automatic updates were posted at certain points and spontaneous responses were given to visitors interacting with the sculpture. Ultimately, Ray represents the potential of solar power and people power, as it gets energy from the sun and also from people's interactions.