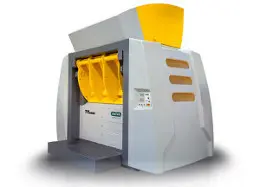 Austrian shredder manufacturer, UNTHA is expanding into Eastern Europe with the opening of a new office in Krakow, Poland in recognition of the country's growing waste management and recycling capabilities.
According to the company the development will enable its customers throughout the country to purchase UNTHA's shredders, from a local team that best understands their specific needs and requirements.
UNTHA Polska will also be able to support clients with the procurement, installation and on-going maintenance of their shredders.
The company explained that while it has had success in supplying the Polish metal recycling and the secure destruction markets, it is the alternative fuel production sector that holds the most promise for UNTHA Polska.
UNTHA added that its technology has already been successfully commissioned in one mechanical biological treatment facility in Poland.
Another of Polish client has also recently installed the company's equipment in a facility that will treat 20,000 tonnes of hazardous waste every year.
"Poland is gradually revolutionising its approach to sustainability," commented UNTHA's head of sales and business development, Peter Streinik.
"Poland's landfill diversion strategy is improving and the country is increasingly realising the benefits that energyfrom waste facilities can bring to its resource agenda," he added.
UNTHA Shredding Technology's chief executive, Alois Kitzberger added: "When you look at the resource efficiency of all countries in the EU, Poland is one of the nations with the most future potential.
Read More
VIDEO – Presona Launch High Efficiency Waste & Recycling Baler
Presona AB has launched the latest in its LP Series of balers, the LP 85 VH, which offers enhanced performance and reduced energy consumption and life cycle costs.
CEWEP Backs Waste to Energy in EU Consultation on Waste Targets
The Confederation of European Waste-to-Energy Plants has submitted its response to the European Commission's consultation on waste targets.
VIDEO: Indiana Secures $260m Paper Recycling Facility
Conyers, Georgia based paper and packaging company, Pratt Paper, is to develop a new $260 million paper recycling facility in Valparaiso, Indiana.