Velo Labs has come up with a bike lock that alerts owners to possible thefts, alerts emergency responders to possible crashes, and has a keyless entry that lets users share bikes Airbnb-style.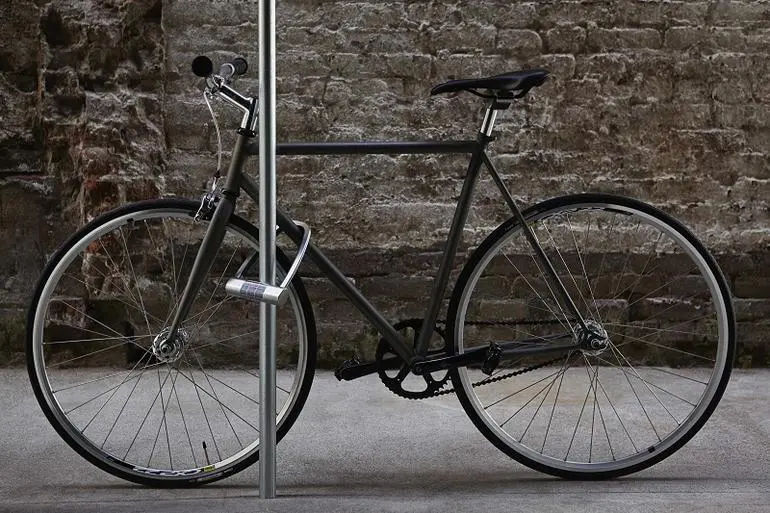 It's happened to far too many people — you lock up your bike, meet a friend or grab a bite, and come back only to find your ride stripped down or gone.
Well, Velo Labs has decided to do something about it. Drawing on its founders Boeing and Jawbone engineering expertise, this startup has invented the Skylock smart bike lock.
At first glance, Skylock just looks like a shiny U-lock, but a closer look reveals so much more. There's a solar powered rechargeable battery, theft and crash alerts, keyless entry, and even the possibility of Airbnb-style bike sharing.
"As a former engineer at Boeing, I have spent years working on tanks, helicopters and aircrafts, and while these forms of transportation have made huge leaps in safety and connectivity the bike is still stuck in the 19th century," Velo Labs co-founder Jack Al-Kahwati said in a statement. "We wanted to take on the challenge of bringing cycling into the future."
Skylock works in conjunction with a smartphone app, either iOS or Android. Users can use their phones to lock and unlock their bikes, add other users, and toy with the settings to receive alerts if their bike is jostled while out-of-sight. The theft alert system works with either Bluetooth or Wi-Fi. And, if the lock's internal accelerometer senses a severe impact while a rider is on the bike, it has the ability to alert emergency responders.
As far as the solar powered battery goes, just one hour of sunlight gives users enough power to last a week. Velo Labs says a fully charged battery lasts a month for most users.
Skylock isn't the first smart bike lock. Startup Mesh Motion unveiled the BitLock keyless bike lockduring its Kickstarter campaign last October. BitLock also works with iOS and Android apps via Bluetooth. However, it doesn't use Wi-Fi and its battery is lithium rather than solar.
Velo Labs launched its own crowdfunding campaign on its website on Thursday. Its goal is to raise $50,000 to release its first batch of Skylocks. The company is offering the discounted price of $159 to backers and ultimately the device will retail for $249. Velo Labs plans to start shipping Skylock by the end of the year.