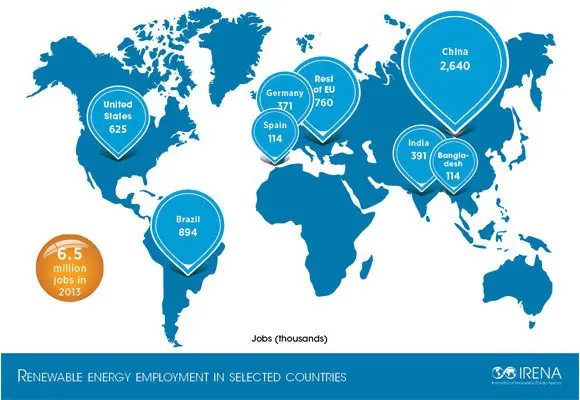 Bangladesh is known for its apparel manufacturing industry—and for the conditions faced by garment workers toiling in Dickensian factories for a dollar a day. But according to a report released Sunday, the South Asian nation has become a top hot spot for renewable energy jobs, creating a green workforce as large as Spain's in 2013.
How? Solar energy.
Bangladeshis are installing small photovoltaic systems at a rate of 80,000 a month, says thereport from the International Renewable Energy Agency (IRENA). In a country where only 47% of the population had access to electricity in 2009, according to the Asian Development Bank, solar is increasingly becoming a way to leapfrog the need to build a bigger power grid.
In the past 10 years, the number of solar systems in Bangladesh has jumped from 25,000 to 2.8 million, according to IRENA. That in turn has created some 114,000 jobs, from assembling solar panels to selling, installing and maintaining them. In fact, the number of solar-related jobs nearly doubled between 2011 and 2013. "The numbers are set to increase further," wrote the report's authors. (By comparison some 4 million people work in Bangladesh's garment industry.)
Solar energy accounted for 2.3 million of the world's 6.5 million renewable energy-related jobs in 2013, according to the report. About 70% of those solar positions were in China, the biggest green-job generator with 2.6 million people employed in renewable energy overall.
More than 1.1 million green jobs are in the European Union, an early leader in promoting carbon-free energy to fight climate change. The United States came in third with 625,000 renewable energy jobs. Solar, wind and biofuels accounted for most of those jobs. Wind jobs have risen as more manufacturers have moved factories to the U.S. On the other hand, those jobs come and go as Congress allows a key subsidy for wind-generated electricity, the Production Tax Credit, to periodically expire.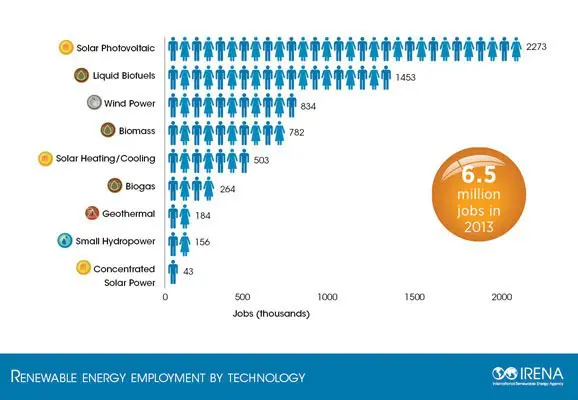 Brazil, however, is a biofuels powerhouse. The country is the world's biggest grower of sugarcane, which is used to make ethanol. About 894,000 people were employed in renewable energy jobs in 2013 with about 70% of those positions related to biofuel production.
India employed nearly 400,000 people in green-energy jobs.
"Regional shifts from developed to emerging countries continued in wind and solar technologies, predominantly in the manufacturing and installation segments of the value chain,"  the report stated.