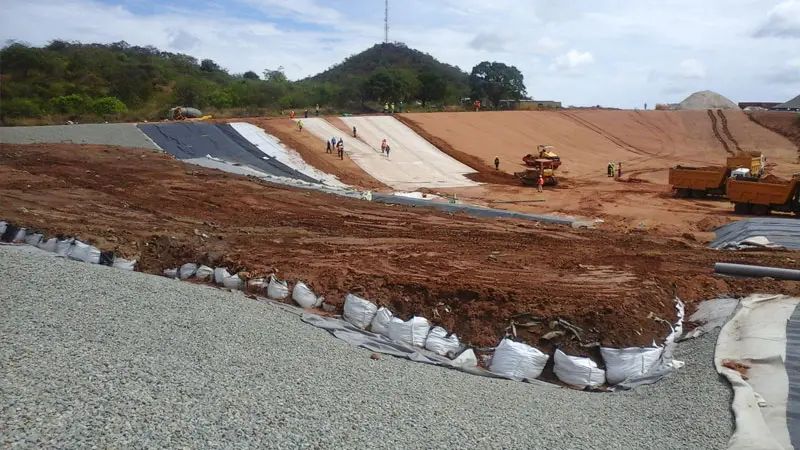 The Nyamasoga Landfill in Uganda is a critically important hazardous waste facility in the oil-rich Hoima District. The 44 ha site is in close proximity to drilling pads and a proposed refinery. The site is also something of a trailblazer. In the absence of any governing hazardous waste barrier standards in the country for such a site, the facility owner chose a fully modernized design with geosynthetics from NAUE to environmental security.
EnviroServ Uganda (ESU) operates the facility, which has been designed to handle drilling fluids, mud cuttings, and other industrial and processing wastes not suitable for municipal solid waste burial.
Jones & Wagener was retained to design the hazardous waste containment strategy, including waste cells, leachate management systems, stormwater management, access roads, and more. J & W's modular solution called for Carbofol® geomembranes, Bentofix® geosynthetic clay liners (GCLs), and Secugrid® geogrids to solve the site's challenging parameters.
The local soils were characterized by sandy clays with pockets of gravel interspersed. Weathered rock was present between 2.5 and 4.5m below the surface. This limited the maximum cell depth to 5m, to minimize rock excavation and prevent groundwater perching.
Additionally, the area was hilly, including being extremely steep at some edges. The design engineers created a C-shaped cell plan on the north side of the property, with the center points of the C having the lowest elevation. This is where the primary stormwater management cells were set, creating a very efficient design.
With only a highway running along the southern edge of the plot, access roads were constructed along all other side of the atypical, wedged-shaped location.