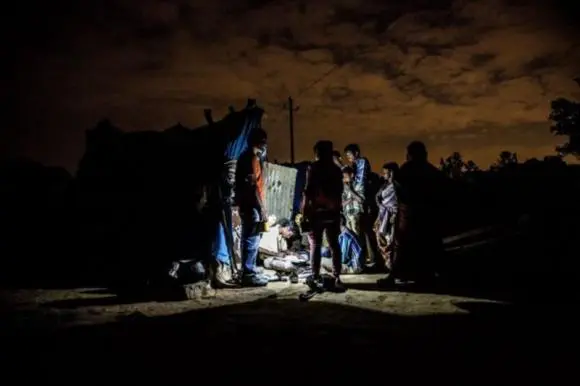 NEW DELHI (Thomson Reuters Foundation) – An Indian social enterprise start-up is helping people living in urban slums to use clean energy by changing their kerosene lamps for solar lanterns and wood fires for more efficient cooking stoves through a simple payment scheme.
Pollinate Energy, which began operations in 2013, is one of thousands of social businesses in India which are tapping into the clean energy market, in a country where 35-40 percent of the population have no access to electricity.
While the majority of those without power live in rural areas, many poor urban communities are also forced to live by candlelight, use polluting fuels like kerosene, or "steal energy" by illegally tapping in to the power lines of wealthier neighbouring residences.
In Bangalore – best known as India's IT hub – Pollinate Energy markets and sells renewable energy lanterns and stoves on a five-week, interest-free payment plan to families living under tarpaulin sheets in the city's slums.
"There are actually a lot of organisations selling clean energy products in the rural sector already, and we found that there was a big gap in the market in the urban sector," said Monique Alfris, co-founder of Pollinate Energy.
"Nobody believes that there are people in urban environments who are using kerosene for light."
Alfris was speaking on the sidelines of Sankalp Unconvention Summit in Mumbai last week, where hundreds of social entrepreneurs gathered to promote their ideas to help India's 400 million poor get services such as energy, water, education, housing and healthcare."ENERGY POVERTY"
Millions of people who are off the grid in India rely on kerosene lamps, but burning the fuel in poorly ventilated places like a tent or small hut contributes to indoor air pollution, which can cause premature death in women and young children.
New alternatives such as solar lanterns and clean cooking stoves are now being manufactured on a larger scale, but urban slum and village communities have not been aware of these new technologies and have not bought the products.
Pollinate Energy says there is a serious need to focus on urban areas, given the thousands of rural migrants streaming into India's towns and cities every day, who face "energy poverty" – a lack of access to modern energy services.
"India is one of the fastest urbanising countries in the world. There are always more and more people coming into the cities," Alfris told Thomson Reuters Foundation.
India's cities are growing much faster than expected, adding 90 million new residents in the last 10 years, a 2013 World Bank report said. A further 250 million Indians will be living in cities by 2030, it added.
Pollinate Energy has so far sold 4,000 solar lanterns at 1,700 rupees ($30) each. These are not the cheapest on the market, but are of high quality and have a warranty for repair and replacement, Alfris said.
"We've so far affected the lives of about 15,000 people," she said. "In the next three to four years, we are hoping to impact 450,000 people across Bangalore and two other cities."