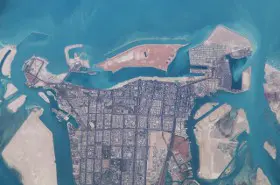 A demonstration waste to energy is to be built on Abu Dhabi's Dalma Island following the extension of a partnership between  Abu Dhabi based energy company TAQA  (ADX: TAQA) and The Center for Waste Management – Abu Dhabi (CWM).
According to TAWA, together with CWM it will develop a waste to energy plant that produces 1 – 2 MW of energy.
The company explained that waste from Dalma Island, which lies 32 kilometers offshore Abu Dhabi´s Western Region, is currently shipped to the mainland and further transported by road to landfills in Abu Dhabi.
TAQA's and CWM teams have already begun conceptual studies for different technical schemes to ascertain the most suitable form of energy recovery waste from Dalma Island, which includes household and organic waste.
The partners are also developing a large scale waste to energy plant in Abu Dhabi, and have started the qualification process for the engineering, procurement and construction (EPC) of a 1 million tonne per year facility. (See WMW story)
The plant will produce some 100 MW and is expected to begin operations in 2016/17.
"We consider this demonstration plant a practical first step to capture lessons learned during construction and operation phases and benefit our announced large scale project to convert a million tonne of municipal solid waste per year into 100 MW of alternative power," explained Dr. Saif Al Sayari, executive officer and head of TAQA's Energy Solutions division.
Source: Waste Management World
Read More
Bacteria that Turn Waste to Energy in Microbial Fuel Cells Studied
Microorganisms which consume waste while generating electricity in a microbial fuel cell are being studied by researchers at Arizona State University's Biodesign Institute.
Video Spoof of Machine that Produces Gold and Energy from Waste
A spoof video purporting to herald the launch of a waste digesting 'Disertator', which is made from meteorites and can transform waste into energy and gold was among this year's April Fools internet pranks.
Three 1000 tpd Waste to Energy Plants Sought in Mumbai, India
International companies have been invited to submit proposals for three 1000 tonne per day waste to energy facilities in Mumbai.