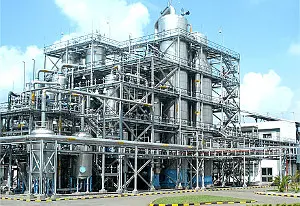 A biofuel demonstration facility that will process 100 tonne of biowaste per day to produce cellulosic ethanol is under construction in in the Sangli District of Maharashtra, India.
According to the developer, Indian biofuel specialist Praj Industries, the second generation cellulosic ethanol demonstration plant will operate on different variety of biomass including agricultural biowastes such as corn stover, cobs and bagasse.
The company said that the plant will enable it to consolidate six years of R&D efforts, starting with laboratory trials to pilot scale trials and will also allow it to develop various biochemicals and bioproducts.
The plant is intended to demonstrate various technical parameters including optimisation of water and energy integration and its impact on the capex and opex.
The company added that the $25 million facility will also develop the entire value chain including biomass handling and biomass composition and its impact on the operations.
For this project, Praj said that it is teaming up with its long term client, Viraj Alcohols & Allied Industries Limited (VAAIL) – an existing ethanol producer located in Western Maharashtra – which will provide the land and allied services for the operation of the project.
Praj has previously supplied VAAIL with ethanol plants which use both, molasses and grains as feedstock, which it said have been operating successfully for the past decade.
"The project site at Shirala gives us a locational advantage in terms of sourcing of biomass, utilities and manpower," explained Pramod Chaudhari, executive chairman, Praj Industries.
"The greenhouse gas savings from Cellulosic ethanol is greater than those from 1st Generation crop-based biofuels as well as fossil-based fuel and hence this project will play a vital role in reducing carbon footprints," he added.
The company claimed that the project will make it the first Company in South Asia to set up an integrated second generation cellulosic ethanol plant.
Read More
Is Waste to Energy to Answer for India?
David Lerpiniere explores the potential role for waste to energy technologies to treat waste in India.
48 MW Waste to Energy Plant Planned for Jawaharnagar, India
Ramky Enviro Engineers could soon begin construction of a 2400 tonne per day 48 MW waste to energy facility in Jawaharnagar.
Three 1000 tpd Waste to Energy Plants Sought in Mumbai, India
International companies have been invited to submit proposals for three 1000 tonne per day waste to energy facilities in Mumbai.
Swiss Bidding Process for Waste to Energy Project in Kochi, India
The state government in Kochi, India has chosen the 'Swiss Challenge System' of tendering, for its proposed 500 tonne per day Rs. 3.5 billion ($65 million) waste to energy plant in Brahmapuram.
Biowaste Gasification Fuels Low Cost Cooking Stove in India
A cooking stove fuelled by gasified biowaste has been approved by the Indian Ministry of New and Renewable Energy and launched in North East India.