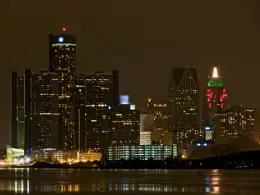 Detroit Renewable Energy (DRE), which operates the bankrupt city's waste to energy facility, has completed $55 million in long-term financing to support its infrastructure development.
The company's businesses include Detroit Renewable Power, awaste to energy facility that processes up to 3300 tons (3300 tonnes) of municipal solid waste per day and supplies power to utility Detroit Edison and heat to its sister company, Detroit Thermal a district heating system that provides heating to more than 145 commercial customers in Detroit's central core.
The waste to energy facility also recovers nearly 40,000 tons (36,000 tonnes) of recycled metals each year.
DRE's other companies include Detroit Renewable Cooling and Hamtramck Energy Services, which provides power block operating and maintenance services to industrial facilities that include several General Motors facilities in Michigan.
According to DRE it will employ the new financing to continue improvements at its facilities, expand services to new businesses and industries, and fund on-going operations.
The company added that it has invested over $60 million since 2010 in acquiring the operating businesses and for capital improvements to its network of facilities.
The financing consists of tax-exempt Limited Obligation Revenue Bonds with maturities extending to 2030. The bonds were issued by the Michigan Strategic Fund and are guaranteed by DRE assets and future revenues.
Read More
Waste to Energy Plant Processes Shipyard Waste to Power NASA Research
Newport News Shipbuilding is helping to power NASA research by sending its a waste to an energy recovery plant that produces heat in the form of steam.
100 TPD Biofuel Demo Facility to Process Agricultural Wastes in India
A biofuel demonstration facility that will process 100 tonne of biowaste per day to produce cellulosic ethanol is under construction in in the Sangli District of Maharashtra, India.
VIDEO: Human Body Parts Found in Concrete at Recycling Plant in Nagasaki, Japan
Human body parts have been found in rubble at a concrete recycling plant in Nagasaki, Japan.