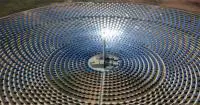 Fine Tubes has produced over 15km of tubing for the power plant near Seville; the first commercial plant in the world to apply central tower receiver and molten salt heat storage technology.
Fine Tubes (www.finetubes.com), one of the world's leading tube manufacturers for the aerospace, medical, nuclear and power, oil and gas and chemical process sectors, is now four years into a solar power project with SENER.
SENER is the international engineering and construction specialist behind the Gemasolar commercial power plant – the first of its kind. Together with MASDAR, Abu Dabi's alternative energies expert, the company began work on the ground-breaking power plant in 2008. SENER has also provided the key technology of this innovative facility.
The Gemasolar plant is capable of producing electricity for 15 hours with no sunlight, enabling it to work through the night and in overcast conditions. What is more, the high temperature at which solar energy is captured generates steam at a higher pressure and temperature which considerably increases the turbine's performance. Its operational capability of up to 24-hour working days presents the first large-scale commercial opportunity in solar power and allows a clean source of energy such as solar energy to become manageable, and capable of responding to the grid's demand.
In a year, the plant can generate enough power for over 27,500 homes and exceeded all projections in its first year of operation. The plant is also able to save CO2 emissions by more than 30,000 tons a year.
Brian Mercer, Sales and Marketing Director at Fine Tubes, said: "Gemasolar was an amazing project to be part of and we're very proud to have played a part in making it operational. It marks a significant beginning of cost reduction in the thermosolar energy sector. It is now likely that future tower projects will be much more profitable and that in the coming years with the standardisation of the industry, concentrated solar power can be competitive with traditional energy sources."
So far, the Gemasolar project has won the CSP Today USA 'Thermosolar Innovation 2011' prize and, in 2012, it was a finalist project in the European Business Awards for the Environment, while Torresol Energy (a joint-venture between SENER and Masdar) has won three of the European CSP Today prizes: 'Commercialized Technology Innovation 2011', 'Most Effective Project Development 2011' and in the 'CSP Dispatchability Solution' category for 2012. In the same vein, SENER won the top prize for Innovation in the 2011 European Business Awards, thanks to Gemasolar and also received the European Business Awards for the Environment/Basque Division for this project, being awarded in the category of Sustainable Development Process.
As the first solar power plant of its kind, Gemasolar requires many bespoke technologies – including the panels of the central receiver on which Fine Tubes worked with SENER. The company has so far produced over 15km of 25mm OD seamless tubing to hold the 565°C molten salt housed in the 140 metre Gemasolar tower. The tubing is made from corrosion-resistant nickel-chromium alloy 625, which has superior resistance to extremely high temperatures and service demands.
Fine Tubes also provided over 300m of 19mm OD heat exchanger tubes manufactured from the same nickel-chromium alloy 625, but with a thicker wall to withstand the high pressures present within the steam generators.
"SENER values highly the contribution of Fine Tubes to this project. The service conditions of components required high quality and reliable products – which Fine Tubes has rigorously fulfilled." said Santiago Arias, Technical Director of Operation and Maintenance at Torresol Energy (Torresol O&M), and Peru Arribalzaga, Project Manager at SENER.
They continued: "Other remarkable aspects during the manufacturing process were meeting deadlines, and continuous information transfer, two points where the collaboration with Fine Tubes was crucial and essential for the successful development of the project."
About Fine Tubes Ltd
Fine Tubes Ltd supplies metal tubing for the aerospace, medical, nuclear and power, oil and gas and chemical process sectors.
The company's service includes the design, manufacture and global supply of seamless or welded and redrawn tubes in materials such as stainless steel, nickel and titanium alloys which are chosen by industry leaders all over the world.
Excellent working relationships with raw materials suppliers and resellers help the Fine Tubes Ltd quality promise extend far beyond its own facilities.
Fine Tubes Ltd's innovations have included crafting a high pressure Inconel nickel alloy tube for Reaction Engines that has exceptionally resistant properties. The tubes are used in the Skylon space plane's heat exchange system.
Fine Tubes Ltd has sales offices in Germany, France and India and currently exports to over 35 countries worldwide.
About SENER and Gemasolar
http://www.sener-power-process.com/ENERGIA/about-sener/en
http://www.torresolenergy.com/TORRESOL/gemasolar-plant/en
SENER has become a technology leader worldwide in the concentrated solar power (CSP) sector, both in terms of technology and number of plants in progress.
To date, SENER has participated in more than 25 solar thermal projects in India, Morocco, South Africa, Spain and USA, representing 1,500 MWe installed or under construction and more than 1,000,000 CO2 tons saved per year.
The company began working with solar energy in the 1980s when it designed the first heliostats, which are still being used in the Plataforma Solar de Almería PSA), in Spain. Since then, SENER has become a technology leader in the CSP sector thanks to its investment in R&D&i.
The Gemasolar power plant can generate enough power annually for over 27,500 homes and has an operational capacity of up to 24 hours a day, being the first solar plant in the world to do so.
Solar Energy employers, recruiters and job seekers can now post vacanices and/or upload CV's on our industry leading renewables job site. Please click on the logo below to get started.