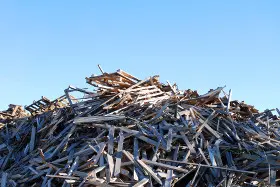 Albany, New York based renewable energy firm, ReEnergy Holdings has acquired a construction and demolition material recycling facility in Lewiston, Maine from KTI Bio-Fuels – a wholly owned subsidiary of Rutland, Vermont based Casella Waste Systems (NASDAQ: CWST).
ReEnergy explained that the facility has accepted and processed non-hazardous construction and demolition waste in Lewiston for more than two decades and that through the use of mechanical and manual sorting processes, facility employeesrecycle material that can be used as fuel at biomass-to-energy facilities.
The company said that it anticipates utilising its in-house processing experience and technology to recover additional wood from the processing streams, reducing landfilled volumes and increasing wood fuel production.
The firm added that the facility will complement its existing operations, which include nine renewable energy generation facilities in Maine, New York, Connecticut and North Carolina, and three construction and demolition material processing facilities that service the eastern New England/Boston metropolitan area marketplace.
The company's existing facilities in Maine through include: ReEnergy Stratton (48 MW), ReEnergy Livermore Falls (39 MW), ReEnergy Fort Fairfield (37 MW) and ReEnergy Ashland (39 MW).
"This acquisition allows us to maximise efficiencies and regional synergies and reflects our strategy to continue building a vertically integrated renewable energy company," explained Larry D. Richardson, ReEnergy's chief executive officer.
"The KTI facility will increase ReEnergy's presence in the construction and demolition (C&D) processing and recycling market in New England, and will enhance our ability to convert a significant percentage of the recovered wood into high-quality fuel that will be used to generate renewable energy," he added
The company said that the majority of KTI's 27 employees will be joining ReEnergy and the remainder will remain employed by Casella.
Read More
VIDEO: Poor Waste Disposal Causes 15 Tonne 'Fatberg' in London Sewer
Fifteen tonnes of waste fat, grease and sanitary products, which had formed the largest 'fatberg' ever found in the UK, has been removed from a London sewer.
Farm & Food Waste to Biogas Anaerobic Digester Underway in Indiana
Monticello, Indiana based Waste No Energy, an anaerobic digestion biogas facility developer owned by RAKR Farms, is developing a facility that will process mixed farm and food waste.
Sembcorp to Build 1000 TPD Waste to Energy Plant in Singapore
Sembcorp Industries is to build a 1000 tonne per day waste to energy facility – its largest waste to energy facility to date.