Jaco Beach, Costa Rica (PRWEB) November 14, 2011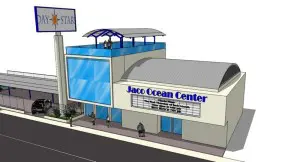 What's new in Jaco Beach, Costa Rica? "Just about everything," responds Faith Mulvihill, VP Rental Sales for OCEANS Center, Jaco. "From access to the SJO airport in an hour, to the opening of the new OCEANS Center located downtown Jaco Beach, Jaco has become the prime vacation and second home destination on the Central Pacific coast. " Long term rentals in Jaco Beach are booming as snow birds are fleeing the hurricane destinations where they once wintered. "We don't have hurricanes, you can drink the water and Costa Rica is a peaceful, friendly democracy…and it's affordable."
An ideal, easy to reach tropical location one hour from the capital and one hour from Manuel Antonio, Jaco Beach offers a wide range of entertainment and cultural options, great dining, world class theatre and exotic nature adventures. Golf, sport fishing, canopy tours, surfing , white water rafting and rugged ATV excursions are just some of the options for groups that make planning an event in Jaco a very unique experience.
OCEANS Center Jaco is a multiuse private event and meeting center and home to Teatro Jaco, is now available for Private Events, Corporate Meetings and Weddings with flexible areas for groups of up to 200 people. Adjacent outdoor space can accommodate overflow for larger events. The new website http://www.oceanscenterjaco.com also provides information on Jaco Beach, Long Term Rentals and hotels in Jaco and Manuel Antonio.
Ideally suited for Green Meetings in Costa Rica, the venue features the sound and lighting equipment of the future and fiber optic high speed internet access. Consistent with standards of sustainability, the building design utilizes low energy LED and fluorescent lights, solar panels, thermo acoustic windows and a water treatment plant for sewage. DayStar Construction was also able to donate reclaimed materials from the building to remodel a school library, minimizing waste while serving the needs of the community.
Coupled with Oceanfront Luxury Condos and hotels in Jaco , this entertainment and corporate meetings facility offers an array of luxury vacation rentals in Jaco, walking distance to the private event space which is only 500 feet from the Pacific Ocean.
# # #
©Copyright 1997-
, Vocus PRW Holdings, LLC.
Vocus, PRWeb, and Publicity Wire are trademarks or registered trademarks of Vocus, Inc. or Vocus PRW Holdings, LLC.