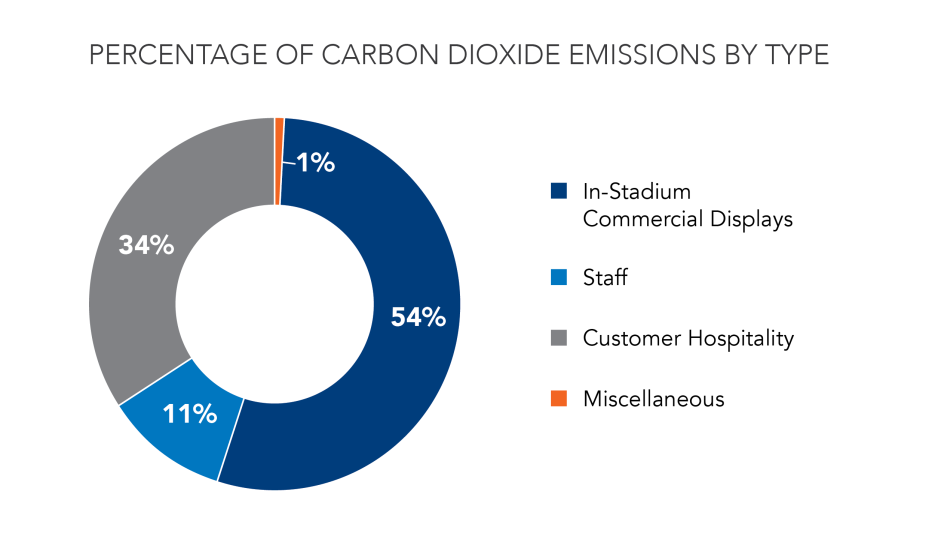 The 2014 FIFA World Cup™ has already been praised as one of the greatest ever. It was powered by frequent goals, drama, shocking match results – and even solar energy. Now that the final numbers have been tallied and the results are in, we wanted to report back on our commitment to becoming the world's first carbon neutral FIFA sponsor, as well as on the larger impact of our FIFA World Cup sponsorship.
Carbon Neutral
As a company focused on sustainability, we believe it is critical that we minimize our environmental impact across all aspects of our businesses, and going carbon neutral for our FIFA World Cup™ sponsorship was one way to meet our commitment to sustainability. We wanted to show that it is possible for brands to make a big impression at large-scale sporting events without having a negative impact on the environment. We decided to offset the carbon emissions from all of our on-site activities in Brazil, including:
In-stadium commercial displays, including charging stations, information towers;
Construction of our solar energy projects at Maracanã Stadium and Arena Pernambuco;
Our formal customer hospitably program, including guests' travel to Brazil;
Employee travel, transportation and accommodation.
Our sponsorship-related carbon emissions totaled approximately 5,392 tons, equivalent to the annual carbon emissions of 770 global citizens or about 1,000 cars. Here's a breakdown of our emissions by type:
In order to achieve our goal of a neutral carbon footprint for all our sponsorship activities, we offset our emissions by:
Supplying over 5,000 solar panels to help power matches at Maracanã Stadium and Arena Pernambuco;
Partnering with ClimatePartner, an independent environmental consulting group, to calculate emissions data for our sponsorship activation;
Investing in carbon emission reduction certificates.
While we are proud of the solar projects that we provided for the FIFA World Cup and throughout Brazil, we also wanted to do more to directly support local Brazilian communities who are making a positive impact on the environment. So, when we looked at our options of projects that generate certified carbon emissions offsets, we made sure that they were generated in Brazil. We invested in carbon emissions certificates from two ceramics factories in the Caatinga region of Alagoas which switched from old-growth timber to renewable biomass like bamboo for firing their kilns. The Caatinga region of Brazil possesses bountiful natural resources, but environmental degradation and deforestation pose a major threat because communities in the Caatinga primarily use wood and coal to produce energy. With the high costs involved in switching to the new burning systems, projects such as these are essential to the development of the region and help to improve biodiversity and reforestation.
We're pleased to help protect biodiversity in Brazil, but the reason we ultimately chose the two ceramics factories, Bandeira and Capelli, is that they guaranteed two additional benefits to the local community. First, the ashes generated during the firing process are reused to ground roads. Second, the project qualifies for a certified "Social Carbon" program because revenues used from the sale of carbon credits are used to provide the factories' employees with access to education, including mathematics and literacy classes. With so many benefits to the local community, supporting the Bandeira and Capelli project was an ideal way to meet our carbon neutral commitment.
Maracanã Stadium and Arena Pernambuco
Supplying solar panels to help power World Cup matches helped to establish our brand presence in Brazil while reaffirming our commitment to sustainability. In competitive bids for stadium projects, we secured contracts for two of the most important stadiums in Brazil: Maracanã Stadium in Rio de Janeiro and Arena Pernambuco in the suburbs of Recife.
Over 1,500 Yingli solar panels at the Maracanã Stadium offset approximately 350 tons of carbon dioxide annually. As one of the most iconic stadiums and the venue for the final match, we made a big impact during the World Cup and we will make an even bigger impact as our panels provide a portion of the energy needed during each event at the Maracanã hereafter (approximately 100 events per year!).
We supplied over 3,600 panels to Arena Pernambuco for a much larger, ground-mounted project which offsets over 5,500 tons of carbon dioxide annually. When the stadium is not in use, the power produced will be delivered to the surrounding community through Brazil's net energy metering program. With both our stadium projects, we wanted to make the FIFA World Cup as green as possible and drive demand for solar in Latin America's burgeoning energy market. These two projects serve as excellent case studies that demonstrate the benefits of using PV technology at commercial centers.
Charging Stations and Information Towers
To bring solar energy into the mainstream, we must demonstrate to consumers that it is a practical and accessible energy source. Our goal was to show local consumers in Brazil that solar is closer to them than they think, and we achieved this at the FIFA World Cup through our charging stations and information towers.
We placed 15 charging stations at four key stadiums throughout Brazil, which powered an estimated 100 mobile devices per match. Furthermore, after the event, we decided to donate our charging stations (which will be delivered in the near future) to local communities and universities throughout Brazil. In addition, we supplied 27 off-grid solar energy kits to power information towers located at all 12 FIFA World Cup stadiums. These information towers helped to optimize fans' exposure to solar technology and met our goal of bringing solar closer to everyday consumers.
Looking Forward
Solar power will be instrumental in shaping the world's future energy market, and that's why it was so important to leave a positive solar legacy in Brazil. Yingli remains focused on long-term solar development by investing in local communities and promoting solar energy awareness through global platforms such as the 2014 FIFA World Cup.
The post Sustainability at the 2014 FIFA World Cup appeared first on On & Off the Grid.
Source:: Yingli Solar