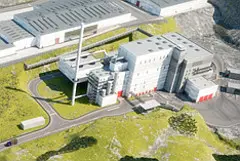 A proposed £240 million waste facility featuring a Mechanical Biological Treatment (MBT) plant 14 MW waste to energy facility in Belfast could help 11 councils in Northern Ireland meet European landfill diversion targets.
The proposal, made by the Becon Consortium – led by E.ON Energy from Waste – is for waste infrastructure capable of treating up to 300,000 tonnes of waste each year, removing recyclables and producing a Refuse Derived Fuel (RDF) for use at the on-site waste to energy plant.
The Becon Consortium is the remaining participant in the ongoing procurement process for residual waste treatment being conducted by arc21 – the umbrella waste management group for 11 councils in the east of Northern Ireland.
Becon said that the unveiling of the plans has triggered a programme of extensive public consultation designed to explain the proposals in detail, answer questions and provide the public and other stakeholders with an opportunity to provide their feedback ahead of submission of a formal planning application in the autumn.
Technology
The consortium explained the proposed MBT will have the capacity to accept and treat up to 300,000 tonnes of waste. However, based on the assumed waste composition and projected waste tonnages, the plant is expected to treat approximately 245,000 tonnes per year.
Becon added that materials such as metals, plastics and other recyclable products would be extracted from the waste at the mechanical treatment stage using automated separation equipment and manual hand picking.
The organic rich material of the waste remaining after recyclate extraction would be treated in bio-drying tunnels to reduce its mass and improve its calorific value.
Following the MBT process, any material which cannot be recycled will be conveyed to the waste to energy plant as RDF for energy recovery with around 14 MW of electricity being exported to the National Grid.
All stages of the MBT operations would be undertaken in purpose-designed, fully enclosed buildings, which Becon said would prevent noise, dust and smells from escaping.
Procurement
The project is subject to the successful conclusion of both public procurement and planning processes, and would be located at the existing Hightown Quarry on Boghill Road, near Mallusk.
According Becon the project will complement existing arc21 waste, reduction, reuse and recycling programmes to maximise recycling levels and create a sustainable energy source from the remaining residual black bin waste.
The consortium said that it aims to develop the facilities on behalf of arc21 pending the completion of a competitive procurement process. The Consortium is backed by E.ON Energy and Waste AG, which currently operates 19 waste to energy plants in Germany, the Netherlands and Luxembourg.
Becon claimed that the facilities will help arc21's 11 Councils to not only meet their EU landfill reduction targets, therefore avoiding potential fines, but will also help increase overall recycling levels within the arc21 area by up to 10%.
Location location location
Becon explained that following a careful site selection process, the long established Hightown Quarry was considered the best location for the new facilities as it is centrally located in the arc21 area, and has good connections to the primary road network as well as the national electricity grid.
Importantly, the developer said that the active industrial quarry site is of sufficient size and scale to absorb the scheme and lends itself well to visual screening and noise shielding.
The project will also include a visitor centre which will showcase best practice in waste management and sustainability.
According to Ricky Burnett, policy and operations director at arc21, the proposal contains a mix of technologies and facilities which satisfies the group's requirements, and at a site which is well located for a development of this nature.

Economic impact
According to the consortium, an independent economic assessment by Oxford Economics estimates the project would create or sustain approximately 340 permanent direct and indirect jobs when operational, contributing over £24 million Gross Value Added (GVA) to the Northern Ireland economy per annum.
The assessment found that it would also create up to 455 direct construction jobs and support a significant number of additional jobs in the construction supply chain, generating an estimated £215 million GVA in the process.
Consultation
Becon said that the public consultation will include a project website as well as the distribution of an introductory brochure to approximately 30,000 homes and businesses in the vicinity and a number of planned community drop-in sessions.
The consortium added that a ongoing communication and community engagement will be carried out in the weeks and months ahead and detailed information will be made available on the website.
"The consultation offers an opportunity for the public to engage through a variety of means and people are encouraged to offer comments to Becon on the proposals," commented Burnett.
Ian Smith, project director at the Becon Consortium added: "As this project will introduce this type of technology to Northern Ireland for the first time, we are expecting a number of questions and issues to be raised."
"That is why we are keen to undertake a comprehensive consultation programme prior to submitting a formal planning application," he continued.
"In the coming weeks we will use a number of different communication channels to inform people about our proposals, answer their questions and listen to their views. We will then take these views into account when preparing our planning application," concluded Smith.
It is anticipated that the plants will be constructed and in full operation within four years of securing the necessary planning and permitting consents, and a successful conclusion of arc21's procurement process.
Source: Waste Management World
Read More
BIG Waste to Energy Ski Slope Under Construction in Copenhagen
Construction work has begun on a waste to energy facility which will incorporate a 1500 metre ski slope and blow giant smoke rings over the Danish city of Copenhagen.
European Waste to Energy Technology Market to Hit $5 Billion
With MSW generation rising and an ageing fleet of waste to energy facilities, the European thermal waste to energy market is set to rise to $5 billion by 2016, according to market analysts, Frost and Sullivan.
Defra Guide to Energy from Waste Published
Defra has published it's a guide aimed at raising the level of understanding and debate around waste to energy and highlighting the key environmental, technical and economic issues involved.