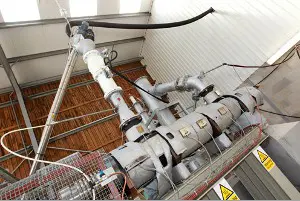 An innovative bioenergy technology, which transforms multiple waste products into cost effective heat and power has won 'Best Technological Breakthrough' at the national Climate Week Awards, held recently at the House of Commons, London.
The Pyroformer™ technology, developed by the European Bioenergy Research Institute (EBRI) at Aston University, works by heating and chemically treating waste in a single, sealed process and produces oil and gas as by-products.
According to the EBRI tests show that unlike other bioenergy solutions, the Pyroformer has no negative environmental or food security impacts and its use of multiple feedstocks means it does not require the destruction of rainforests or the use of agricultural land for the growth of specialist biocrops.
The Pyroformer uses a form of intermediate pyrolysis with reaction temperature of around 450-500˚C and a vapour residence time of a few seconds – the solids' residence time can be varied as desired. As the reaction occurs under controlled heating levels the EBRI said that it avoids the formation of tar which is problematic for other forms of pyrolysis as clogging occurs and prevents the machinery from working.
The Institute explained that the process is emission free and is currently capable of treating up to 100 kg per hour of biomass feedstock and that when coupled with a Gasifier it will have an output of 400 kWe. In addition to generating heat and power, the technology can reduce the amount of material sent to landfill.
Tim Miller, director of operations at the EBRI at Aston University, commented: "The Pyroformer is about more than just sustainable energy provision. We believe this technology could be a key stimulator of growth and jobs and the reaction of the business community so far has been very positive."
Following significant R&D investment the EBRI said that the Pyroformer is now 'near market' and that it is showcasing the technology to industry to demonstrate how real-life solutions for tackling residues and waste can be achieved, with both environmental and financial benefits for households, businesses and local authorities.
The national Climate Week Awards showcase the UK's most innovative, ambitious and effective actions to combat climate change. In total there were 14 categories ranging from sustainable business to new technologies and community action.
The winners were announced during a special ceremony held at the House of Commons to mark the launch of this year's Climate Week.

Source: Waste Management World
Read More

£240 Million MBT and Waste to Energy Plant Planned for Belfast
A proposed £240 million Mechanical Biological Treatment facility featuring a 14 MW waste to energy plant in Belfast could help 11 councils in Northern Ireland meet European landfill diversion targets.
Biowaste Gasification Fuels Low Cost Cooking Stove in India
A cooking stove fuelled by gasified biowaste has been approved by the Indian Ministry of New and Renewable Energy and launched in North East India.
Russian Waste to Biofuel Technology Licensed to Swiss Firm
A sales and marketing license agreement for a Russian multi-stage solid fuel decomposition and oxidation waste to energy technology has been signed by Swiss green technology specialist, Korsair Holdings.