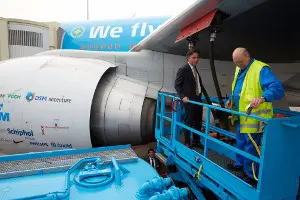 A Boeing (NYSE: BA) 777-200 fuelled by waste cooking oil derived biofuel will make weekly flights from New York's John F. Kennedy Airport to Amsterdam's Schiphol – its first ever series of biofuel-powered intercontinental flights.
KLM Royal Dutch Airlines, which operates the flight, said that the biofuel is supplied by SkyNRG, a company it KLM founded 2009 together with ARGOS (North Sea Petroleum) and Spring Associates.
According to the airline, SkyNRG now supplies more than fifteen carriers worldwide and is the operating partner in the KLM's BioFuel program. For the JFK to Schiphol route, SkyNRG is supported by its longstanding U.S. Partner EPIC Aviation to distribute the fuel.
KLM said that biofuel is only an option for it if it does not have a negative impact on biodiversity, local development and/or the local food supply, and that as of March 2013, SkyNRG is the first fully renewable jet fuel supply chain to be certified by RSB (Roundtable on Sustainable Biofuels).
Partners
The company added that the flight is the result of a joint effort and expanded cooperation between KLM, Schiphol Group, Delta Air Lines, the Port Authority of New York and New Jersey and the contributions of its partners in the Corporate BioFuel Program.
According to KLM cooperation is a priority for the future of sustainable biofuel in the aviation industry and it has been working with the World Wide Fund for Nature the Netherlands (WWF-NL) since 2007 to stimulate a more sustainable airline industry.
"We are working with KLM to develop an international market for the use of sustainable biofuel in the aviation industry. The first series of transatlantic biofuel flights is an important step to achieve this goal," commented Johan van der Gronden, CEO of WWF-NL.
Carbon offsets for corporate accounts
Last year KLM launched what is claimed to be the world's first biofuel proposition for contracted corporate accounts.
The airline explained that this will allow them to fly on sustainable biofuel for a portion of their total flight volume, or on specific routes, thereby stimulating the further development of biofuels and reducing the aviation industry's carbon footprint.
The number of partners in the programme has since more than doubled to fifteen, and now includes the City of Amsterdam, Delta Air Lines (NYSE: DEL), Siemens (NYSE: SI), TomTom (Tom2:AS), Heineken (HEIA:EN), Nike (NYSE: NKE) and Philips (NYSE: PHG) among others.
Source: Waste Management World
Read More
British Airways Waste to Aviation Fuel Project Nears Lift Off
British Airways and sustainable aviation and marine fuel specialist are building a consortium of technology partners and financial backing for their GreenSky London initiative which aims to convert 500,000 tonnes of waste per year into fuel and power.
Boeing to Refine Waste Cooking Oil into Biofuel in China
A new technology center which is to research the use of waste cooking oil as aviation biofuel in China has been jointly funded by Boeing.
Airbus Partnership to Develop Biofuels from Waste Cooking Oil
The company added that the value chain aims to produce and to promote the use of aviation biofuel in China, the world's fastest growing aviation market.