St. Augustine, Florida (PRWEB) April 11, 2012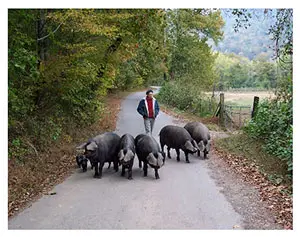 An informational gathering will be open to potential residents and investors Friday, April 13 and Saturday, April 14th from 9-5 p.m. To register or find more information, http://www.ShoalsVillage.com/workshop.
SHOALS CREEK FARM VILLAGE will be established as an intentional pedestrian community just outside Murphy, North Carolina complete with alternative renewable energy production, preserved green spaces, farming, wildlife habitats, spring fed ponds, educational retreat center, recreation, service centers, wellness center and more. The inspiration for the development comes from such communities that were established pre-fossil-fuel such as historic St. Augustine, St. George Street, English villages such as the Cotswold villages, Findhorn and other pedestrian farm focused villages throughout the world. The design evokes the traditional cluster and hamlet living creating a timeless, car-free environment within a farming and artisan community. The primary goal of the founders and directors is to involve the future residents and the local community to focus on re-enforcing the local economy with sustainable jobs, businesses and work-force housing while re-enforcing the overall health of the area, region, and planet.
SHOALS CREEK FARM VILLAGE is based on strict conservation principles to create an inspiring, self-sufficient, multi-age, intergenerational and organic lifestyle. A permaculture urban design will be implemented to conserve natural resources, incorporating the use of alternative power sources, recycling, and produce less waste and minimize the environmental footprint of a conventional city. The community will produce 50-90% less carbon per person based on conservation community principles. All structures reflect the policy of sustainability and integrate local materials. There will be a central transportation facility that will provide space to deposit a car/vehicle but will also house environmentally friendly vehicles for residents who may need the use of transportation to move around the village.
The Shoals Creek Farm Village site was chosen for its unique natural setting and its close proximity of one mile from the Shoals Rural Township Center, including the 500 student Hiwassee K-12 School and store. The site will be the future home of the 150 unit conservation community on approximately 300 acres. The property is surrounded by hundreds of acres of land with a diversity of wildlife and is located 5 miles from Apalachee Lake and Hiwassee Lake. Approximately 250 acres of the 300 acres will be preserved in perpetuity for wildlife habitats and farming and development will be placed on a maximum of 50 acres (10-15% of the site). The conservation community will include a 120 unit pedestrian village and organic farm, a farm and dairy hamlet, an equestrian hamlet, a summer camp, an education and retreat center, and an outlet store in the Shoals Township. The Farm Village will be a mixed income, full life village with will facilitate aging in place and exchanges between young and old.
The Shoals Creek Farm Village and Hamlet build rate is anticipated to be over a 5 year period, at an average absorption rate of approximately 30 homes per year. Each phase will be based on pre-investment. The Shoals Creek Farm at full production will meet most of the food requirements for the community as well as be able to sustain the community in the event of a food crisis. The design was lead by the founding farmer for Serenbe Farms in Palmetto, Georgia, known as "Farmer D", who created a 25 acre biodynamic farm that supplies the community with fresh produce and organic gardening supplies.
Advocates for Communities, a nonprofit organization, lead by visionaries and directors Jeff and Sofia Kaller, and Village Habitat for Design, a second generation eco village master builder, co-founded by Greg Ramsey, have designed and are developing an intentional sustainable village community that will be used as a template for other villages that can be developed around the world. These agriculturally based, artisanal live and work communities are focused on conservation, self-reliance, sustainability, and quality of life. Advocates for Communities vision if the enhanced growth, through identification of areas of expansion for village based communities throughout the United States.
Greg Ramsey and Village Habitat Design have a global reputation for award winning quality and long, strong record of "built sustainable projects". Following in his father's footsteps, Greg Ramsey witnessed the inception of the eco village movement (1972) that has exploded to over the 40 years transforming the global lifestyle paradigm to one of intentional conservation communities numbering in the hundreds all over the world. Greg has pioneered the growth of the conservation community movement with landmark projects such as Lake Claire Cohousing, East Lake Commons Cohousing village, and the Chattahoochee Hill Country, large scale village conservation project.
©Copyright 1997-
, Vocus PRW Holdings, LLC.
Vocus, PRWeb, and Publicity Wire are trademarks or registered trademarks of Vocus, Inc. or Vocus PRW Holdings, LLC.