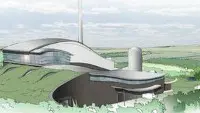 The UK Environment Agency has issued an environmental permit for Amey Cespa's  proposed 320,000 tonne per year waste to energy facility at Allerton Park near Knaresborough, North Yorkshire.
The agency said that the decision follows a public consultation and a thorough assessment of any potential impacts on the environment.
According to Amey Cespa, if built, the facility will reduce the amount of waste going to landfill by at least 90%,
However, in February this year the project lost £65 million of promised government funding in the form of PFI credits, prompting the North Yorkshire council filed a request for a judicial review in May.
The permit issued by the Environment Agency under the Environmental Permitting (England & Wales) Regulations 2012, requires the company to comply with all relevant legislation including strict air emission and monitoring standards.
The planned facility would also feature a mechanical treatment plant to remove any remaining recyclables from the residual waste, as well as an anaerobic digester to produce biogas.
The award of the permit is covered in this week's WMW newscast, below.

Read More
Progress in Pictures at 900,000 TPA Waste to Energy Plant in Florida
The huge 95MW waste to energy plant in Florida is starting to take shape with Babcock & Wilcox Vølund installing the DynaGrate combustion grate.
London Mayor Calls for Waste Oil to be used as Biofuel for Buses
The UK biofuel industry has been urged to process more of London's waste cooking fats and oils into biodiesel to fuel the city's buses, by the Mayor of London, Boris Johnson.
SUEZ Backs Organic Wastes to Renewable Chemicals Firm in UK
Redcar, UK based Solvert, which is developing technology to recycle organic wastes into renewable chemicals, has been backed by an investment from French environmental services giant, SUEZ Environnement.