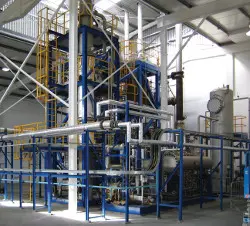 Dayton, Ohio based fluid agitation equipment and systems manufacturer, Chemineer, has been selected as an engineering partner for a waste plastics to fuel facility being developed near Bristol, UK.
The project is being developed by London based plastics technology firm, Cynar and will convert end of life plastics into diesel fuel.
Cynar has developed a process that converts mixed waste plastics into synthetic fuels that are claimed to be cleaner, lower in sulphur and in the case of diesel, higher cetane than generic diesel fuel.
Chemineer explained that its large helical ribbon impeller, with central screw was chosen specifically for this laminar flow, high viscosity application.
The company said that the impeller is able to effectively pull down soilds and liquids from the surface while the helical ribbon is pumping up.
The manufacturer added that its agitators are a key part of Cynar's technology to transform waste plastics that would otherwise be disposed of in landfill into valuable liquid fuels.
Chemineer, a part of pump manufacturer NOV Mono, said that it will also supply agitators for other planned sites in the UK and Europe.
The company added that there has also been interest from the America's in Cynar's process. Cynar's core aim is to be the first to market with the commercialization of ELP to diesel fuel technology to become the leader in the waste industry.