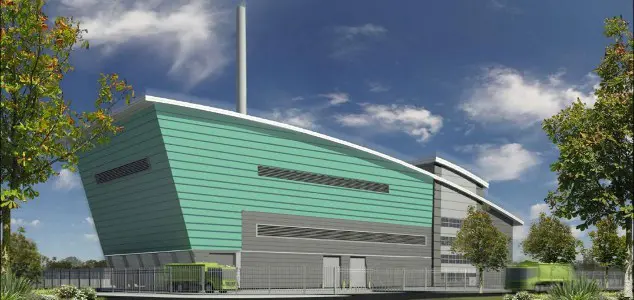 Viridor has suspended the steam blowing process in the commissioning of its 60,000 tonne per year Exeter waste to energy facility following concerns expressed by some residents.
According to the company, the noise emitted by steam blowing through the plant – to dislodge grit from the internal pipework – far exceeded initial forecasts.
Viridor explained that steam blowing is a one off process when constructing the waste to energy plant.  When it is in operation it will be barely audible beyond the boundary of the facility.
Following two successive 'blows' the operation was stopped to allow for technical modifications and further communication to the community.
"We are very sorry for any alarm caused by these two incidents," said Ian Crummack, project director at TIRU UK, the company constructing the plant.
"On Tuesday, we set two steam blows, which lasted for about 8-10 minutes.  Whilst it is a perfectly safe procedure that is a vital part of commissioning the plant, the noise was nonetheless extremely loud – far louder than we had anticipated, so we have halted the process," he added.
Viridor – a part of the Pennon Group (LSE: PNN) – said that steps are now being made to try and mitigate the noise and increase communication to ensure more people know what to expect.
The company added that steam blows will be taking place at 10am and 2pm from Tuesday 4th March – Thursday 6th March and Monday 10th – Thursday 13th March when all steam blowing should be concluded.
Read More
Viridor's 70 MW Runcorn Waste to Energy Plant Begins Commissioning
Commissioning of phase one of Viridor's 70 MW of the Runcorn waste to energy facility has begun prior to its planned opening early this year.
UK Hazardous Waste Incinerator to Help Dismantle Syrian Chemical Weapon Programme
Veolia is to destroy 150 tonnes of 'B precursor' chemicals, which could have been used to produce chemical weapons in Syria, at its High Temperature Incineration facility at Ellesmere Port, UK.
200,000 TPA Waste to Energy Plant Secures Funding Approval in Worcestershire
Funding proposals for the planned 200,000 tonne per year EnviRecover waste to energy facility in has been approved by Worcestershire County Council.