Japanese firm Mitsubishi Heavy Industries Environmental & Chemical Engineering has received an order from the Otokuni Clean Plaza for modification work to improve core equipment at a municipal solid waste (MSW) incineration plant in Kyoto.
The company explained that as part of the modification work it will revamp a stoker furnace type incinerator with a processing capacity of 225 tonnes per day. The aim is two-fold, extending the plant's operational life and boosting its energy efficiency.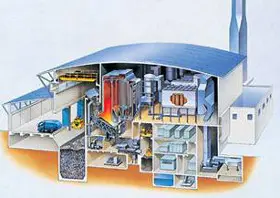 According to MHI, the Otokuni Clean Plaza handles municipal waste treatment for the cities of Muko and Nagaokakyo and the town of Oyamazaki, all in Kyoto Prefecture.
The current incineration facilities consist of two stoker furnaces with 75 tpd processing capacities and related equipment completed in March 1995, and a third stoker furnace and related equipment completed in March 2002.
MHI added that it originally engineered and constructed all of the installations at the facility.
The new order is for Phase II of modification work at the plant, which is slated for completion in March 2018. The order for Phase I was received in 2010.
The company said that Phase I of the service life extension work, which was completed in March 2012, primarily involved upgrading of the comprehensive central monitoring control system and ash solidification equipment.
In Phase II, the operational lives of furnace units 1 through 3 will be extended and energy savings will be promoted throughout the entire plant.
Reduced emissions
According to MHI, increased power generation capacity and other new features will reduce carbon dioxide emissions by more than 3.2% (approx. 125 tonnes) per year.
Further, the company said that the adoption in furnace No. 3 of its patented Hybrid Bag Filter will eliminate the need for activated carbon, which until now has been used to reduce the level of dioxins in the flue gas, and thereby enable reductions in the plant's operating costs.
MHI explained that the Hybrid Bag Filter is an advanced catalyst bag filter. Besides conventional ability to remove harmful substances, it is said to also break down gaseous dioxins (DXN) and nitrogen oxides (NOx) thanks to a coating of catalyst applied to the bag filter's fibres.
Growth in waste to energy modernisation market
According to MHI, recently it has seen an increasing number of projects to modify and improve existing waste to energy plants, both to extend their operational lives and to reduce their impact on global warming.
In part it attributed the trend to local governments facing tight budgets that make it a difficult market in which to construct new facilities.
The company added that in Japan such projects are also gathering further momentum with the central government's introduction in 2010 of a state subsidy system created to promote operational life extension and enhance energy savings of waste treatment facilities.
The program, which falls under the jurisdiction of Japan's Ministry of the Environment, targets effective use and improvement of existing waste treatment facilities as a contribution to the prevention of global warming.
Local  governments at city, town or village level that seek to extend the operational life of MSW facilities are eligible to receive subsidies covering one-third to half of the project cost, dependent on the CO2 reduction rate.