Martifer Solar, a subsidiary of Martifer SGPS, has delivered one of the first unsubsidized solar power plants in Italy for the Ikea Group on the rooftop of a new commercial store in Pisa, Tuscany. The project has a total capacity of 696.15 kWp and has been structured without a feed-in-tariff approach.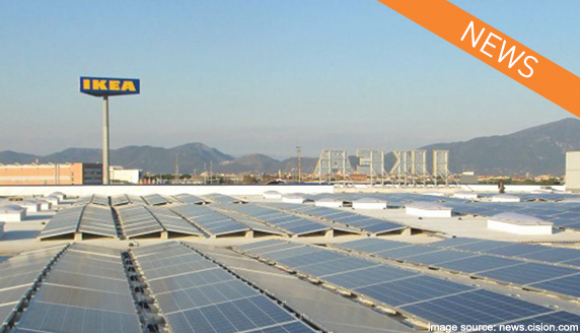 This realization is a breakthrough in terms of a solar PV business model because it provides Italy with the possibility to build a stable solar industry without the reliance on government incentives. The power generation from this PV project will be at a Levelized Cost of Electricity (LCoE), which is equal to or less than the price of electricity being sold from the grid.
"As a future-oriented company, Martifer Solar achieved a historical milestone with this project completed together with IKEA Group. This achievement means that solar energy is as cost-competitive as any other energy source in Italy and principally, without subsidies. The solar industry is approaching grid parity in an increasing number of places worldwide," says Henrique Rodrigues, CEO of Martifer Solar.
Martifer Solar was responsible for the EPC (engineering, procurement and construction) of this 696.15 kWp plant and will be responsible for the subsequent Operation and Maintenance (O&M) service. The grid parity project, with approximately 2,700 modules installed on fixed structures, will produce the equivalent amount of electricity for nearly 800 inhabitants and will avoid 373 tons of CO2 emissions per year.
"The partnership with Martifer Solar has enriched us with new experience making us a company oriented to solar PV business. The installation of Pisa is the largest of our stores in Italy and the first polycrystalline technology for Ikea. Another step forward to create a better daily life for many people," says Ferdinando Ricco, Technical Installation Manager of IKEA Italia Property S.r.l.