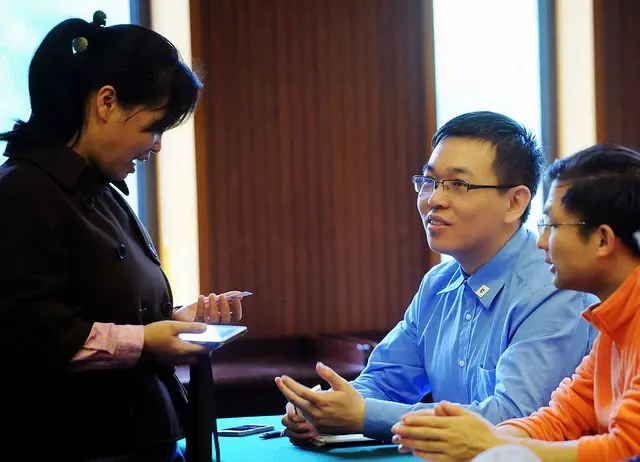 BEIJING: Admissions are now open for the 2015 Spring and Autumn terms of the Future Academy, a low carbon leadership and educational platform which was founded by The Climate Group, with Overseas Chinese Charity Foundation of China as the strategic sponsor.
The Future Academy nurtures young entrepreneurs with innovative talents and a global vision to build on their expertise and skills in sustainable development, in a bid to produce tomorrow's low carbon business leaders.
There are plans to recruit 150 young students in 2015, who will work on analyzing the sustainable development strategies and innovation case studies of 10 leading companies, during two intensive theoretical-based curriculums.
Changhua Wu, Greater China Director, The Climate Group, and founding president of Future Academy, says the new term will build on the success of last year: "In 2015, the Future Academy will fully upgrade, bringing high-quality resources and expertise worldwide, and cultivating young innovative talents in order to establish a global platform for young leaders and help drive the global transformation to a low carbon economy."
CHINA'S NEW ECONOMY
Under the Chinese government's new economic strategy to deepen "ecological civilization construction", the country is now focused on ushering in a new era of low carbon industrial development, and the Future Academy is uniquely positioned to help cultivate the young innovative talent the world needs to meet its fast-growing climate change and energy challenges and opportunities.
Jining He, vice-chairman and secretary-general of the Overseas Chinese Charity Foundation of China, said: "Persisting in sustainable development is an important social responsibility which needs integrated participation from government, business, the public and society as a whole. Dedicated funds are needed to support and promote China's future leaders in sustainable development, which is why we are enthusiastically advocating for more entrepreneurs and companies with strong social responsibilities to support and join us."
Future Academy's new 2015 terms will include a 'Knowledge foundation' module, in which well-known experts will be invited as lecturers on themes such as sustainable development, energy strategies and climate finance, to share theoretical knowledge, policymaking models, strategic planning, and future opportunities.
Real life business case studies will be analyzed by the students, aided by CEO demonstrations, expert analysis, company visits and discussions, covering the following areas:
environmental technology innovation
ecological agriculture
clean energy supply and management
health sector management
sustainable construction
land desertification
ecological remediation.
EXPERT INSIGHT
The Future Academy was founded by The Climate Group at the beginning of 2014 with former British Prime Minister Rt. Hon. Tony Blair, and over the last year has convened many experts, scholars and entrepreneurs in sustainable development and commercial sectors.
CEO mentors have included leaders Vantone Group Chairman Feng Lun, Broad Group President Zhang Yue, Elion Group Chairman of the Board Wang Wenbiao, Xinao Concrete Group President Han Xianfu and Shanghai Shenzhou and Vehicle energy saving & environmental protection Company President Chen Jie.
Policymakers and academics who have acted as a steering committee include The Climate Group Greater China Director Changhua Wu, Ministry of Environmental Protection Education Centre Director Jia Feng, Peking University Environmental and Economic Research Institute Principal Zhang Shiqiu, Tshinghua University School of Economics and Management Professor, PhD supervisor Tong Yunhuan, Renmin University of China Business School Professor Xu Erming and Doctor of Economics, TekonNet CEO, and former Asian Development Bank Private Business Director Zheng Kangbin.
If you or someone you know is interested in being one of the 150 students and young professionals to be enrolled in Future Academy 2015, contact us at [email protected]. An application form can be downloaded here.