New Winter – New Winter Cup season!
December 27 was a kick-off date for first event of motorsport rally contest SUBARU TEAM RUSSIA Winter Cup 2015 supported by Waste to Energy International, Carbon Factory, Atomic Shop, Kramar Motorsport and Service station «Plyeada». 34 Competitors took participation in the event, each ready to compete against its main rival – the time.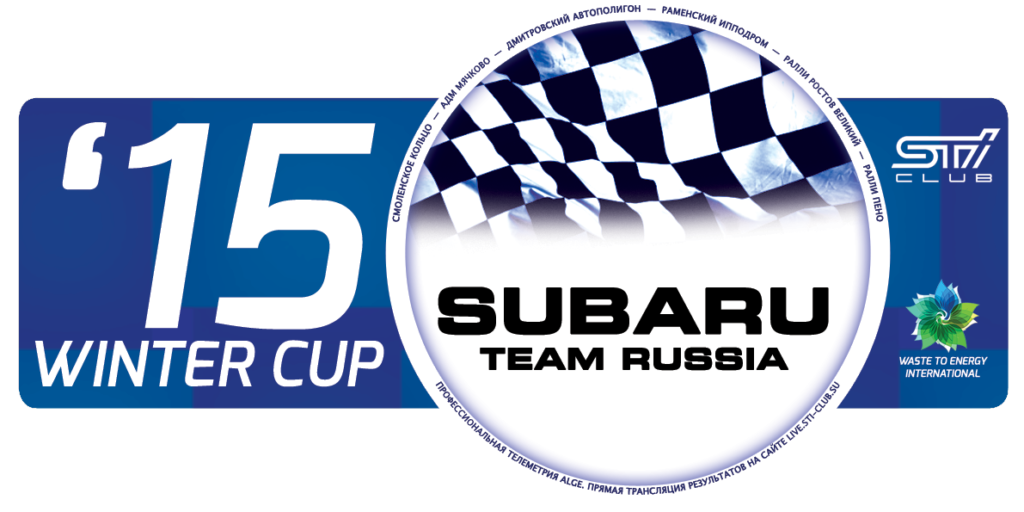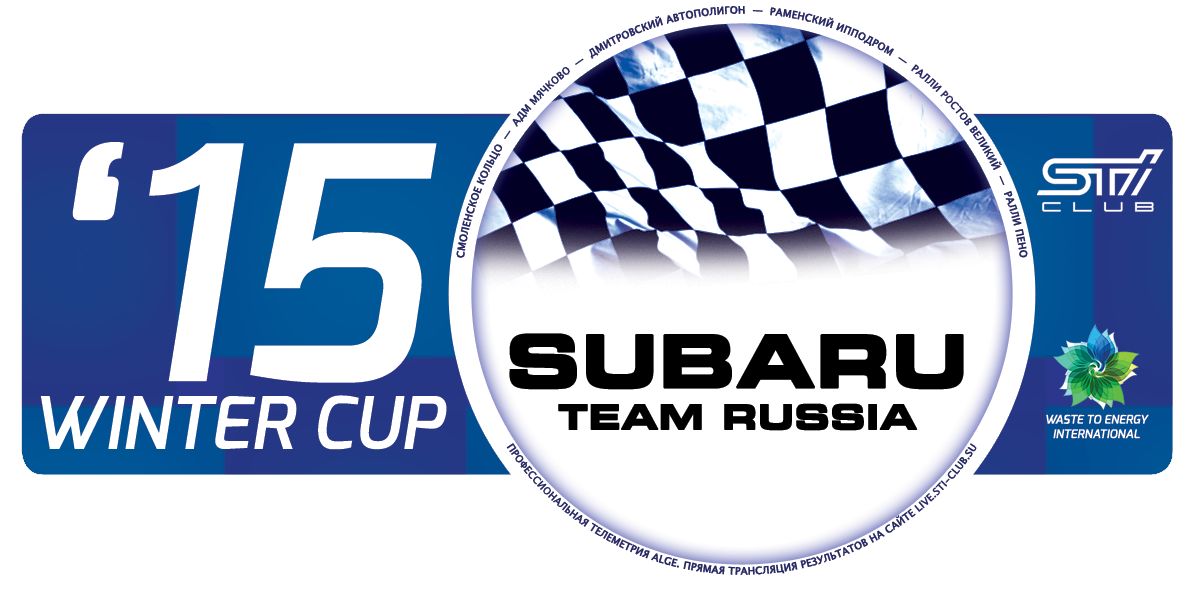 The history of Winter Cup
Starting from 2012 STi-Club team of friends holds a winter cup for rally sprints. From year to year list of competitors expands with new names, regulations are transformed and new tracks are becoming available for winter cup participants. Quite many different organizers are ready to hold sporting events in snowy winter; however all of them are carried out only in "sprint" format. STi-Club has attempted to bring competitors to professional rally format as much as possible. In 2013-2014 season there were stages of rally "Rostov Velikiy" and rally "Peno" introduced in Subaru Team Russia Winter Cup calendar, which are held on special stages of Russian Rally Championship and Russian Rally Cup. New season is no exception. STi-Club organizers have scheduled 8 stages, including Zelenograd, Rostov Velikiy, Ramenskoe, Peno, Konakovo River Club, Dmitrovsky proving ground. Winter Cup final is expected to take place on March, 7-8 2015.
Subaru roars across the field
The very first stage of Winter Cup 2015 – rally-sprint "Zelenograd" – took place on specially prepared snowy-gravel track. Total distance included 23 kilometers of special stages and liaison distances. From early morning participants gathered in service park struggling through the field behind it. Right before the reconnaissance organizers have provided stickers from Atomic Shop that were tough to apply on cold car bodies. The weather was kind to Winter Cup competitors. Light frost, no precipitations – no doubt it should be a great motorsport day. Competitors' cars were inspected by technical scrutineer to ensure that everything is in line with sporting regulations and crews can have a permit stamp to enter the contest. Towing eye, fire extinguisher, med kit, breakdown triangle, sponsors' stickers – everything should be on its place. Among entry list's cars, of course, most were Subaru Impreza and its permanent rivals Mitsubishi Lancer Evo. Nevertheless, there were also Opel Kadett, Volvo V70R, Toyota Corolla, BMW M3, two VAZ-2015, VAZ-2112 and VAZ-21083. All cars have been divided into different classes according to regulations.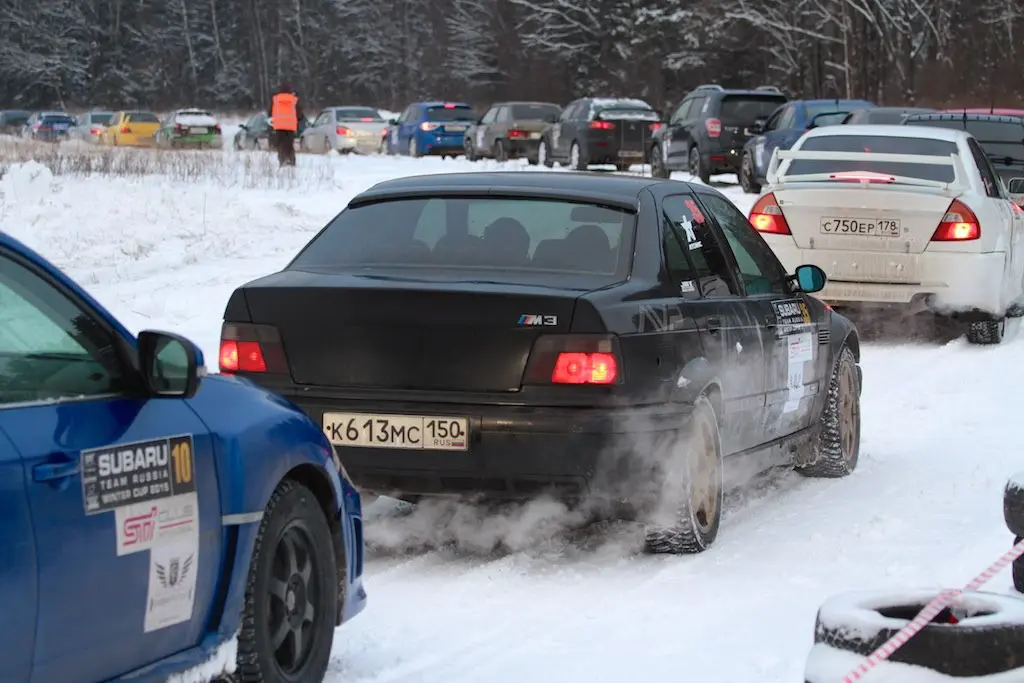 22 kilometers of pure adrenalin
Right after technical inspection crews have aligned for track reconnaissance. There were 6 special stages with overall distance of 22 kilometers. Track has been compiled from short ring, long ring, combined and the same in the opposite direction. Some parts of the track were slow turns, some – very fast flat out turns where it's possible to gain some time win against other contestants. Crews are expected to calmly perform reconnaissance and create right pace notes. Last year's vice-champion Pavel Novikov on his Mitsubishi Lancer Evo IX has faced difficulties well in advance: he encountered a puncture during reconnaissance. However, he could relatively fast and easily fix the issue. Some of the crews were so hunger for racing that couldn't cope with desire to full the throttle a bit harder. They didn't get away with it. For the first time – the verbal warning has been released by organizers. Starting from the next stage of Winter Cup, exceeding of 50 km/h speed limit during reconnaissance will be a subject for a penalty.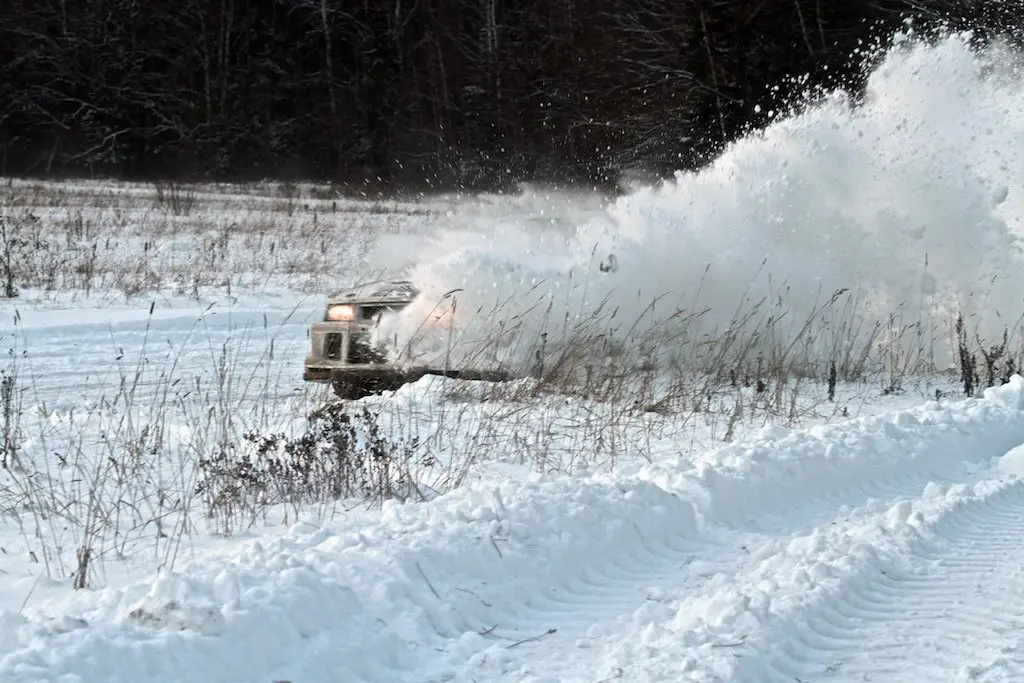 First retire – a lesson for everybody
First crew scheduled to start at 12:00. The honor of new season opening has been granted to last year's champion crew Elizarov/Turok on Mitsubishi Lancer Evo VI. The team has arrived at starting point just in a minute before their official start time, however still managed to fit into these 60 seconds. Sadly, despite the good mood, their way was not so long this time. First stared crew stand out with first retire in the season on SS-1 (first special stage). The pace was too fast. On the straight line the car has been pulled off to the right side on the snowy spoil bank. The pilot has managed to get the car back on the track and terminate the special stage. Right after wheel replacement and car inspection, the crew in the end had to retire from the rally: two cracked wheel disks, damaged oil cooler and creased frame rail (hopefully, carbon fiber skid plate protected from severe damage – without that car could be damaged a lot seriously)
Maxim Elizarov: "We're very happy that finally winter season of STR Winter Cup is kicked off! Well, everything went not so good as we planned. According to pace notes the track looks very interesting, but for us it turned out too short, just around one kilometer. Will concentrate on preparations for the next stage of Winter Cup to get a lot of driving fun there!"
By the way, STi-Club organizers, foresightedly looking in the future, took care about upcoming Winter Cup winner: the one with most of the points in the end of the season will be given a certificate for carbon fiber skid plate from Winter Cup sponsor – Carbon Factory.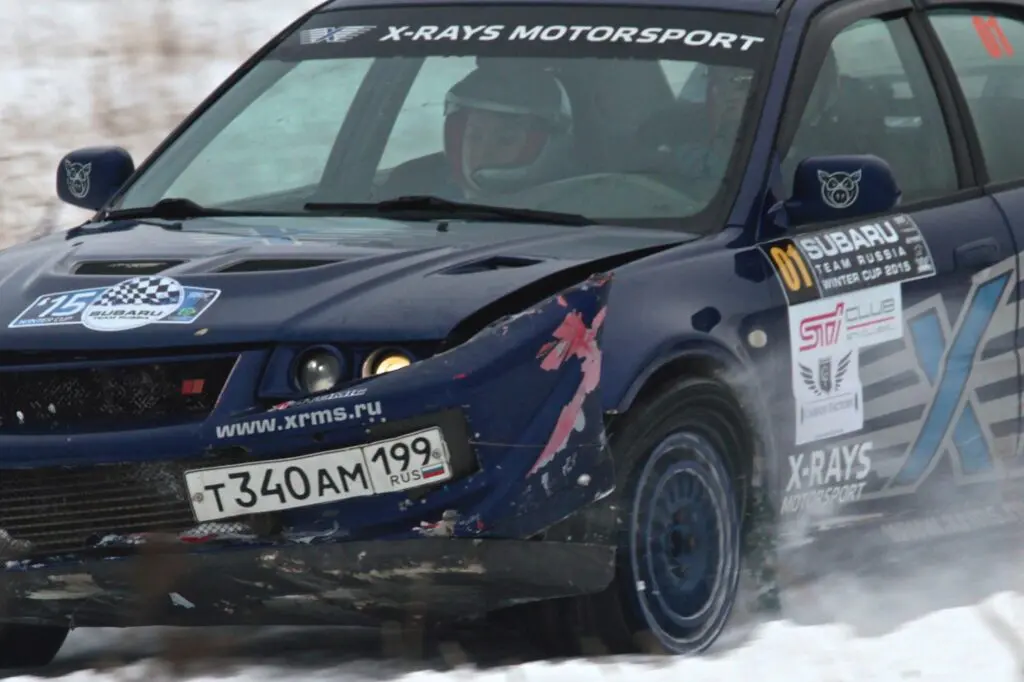 The battle is not lossless
For this stage of Winter Cup it was a sole serious retire. However, there were another attempts to hit frozen gravel banks, but luckily everything got away with just adrenaline rush with minimum damages. The crew of Shipov/Ternovsky on Mitsubishi Lancer Evo X literally could see a sky for the moment, but driver managed to return car's balance quite fast and continue the race. Some competitors took a help of hammer to planish twisted wheel. So, by SS-6 just 26 from 34 crews were able to keep fighting. Crews of VAZ-2015 with Pal and Lisovoy refused to continue the race; Maximov/Bespalov on Subaru Impreza GT were absent at start point, as well as Michulit/Kazimirov on Subaru Impreza; Oleynikov/Shelkov on BMW M3 faced technical issues, Winter Cup debutants Kalinin/Levin on Subaru Forester simply got off the track.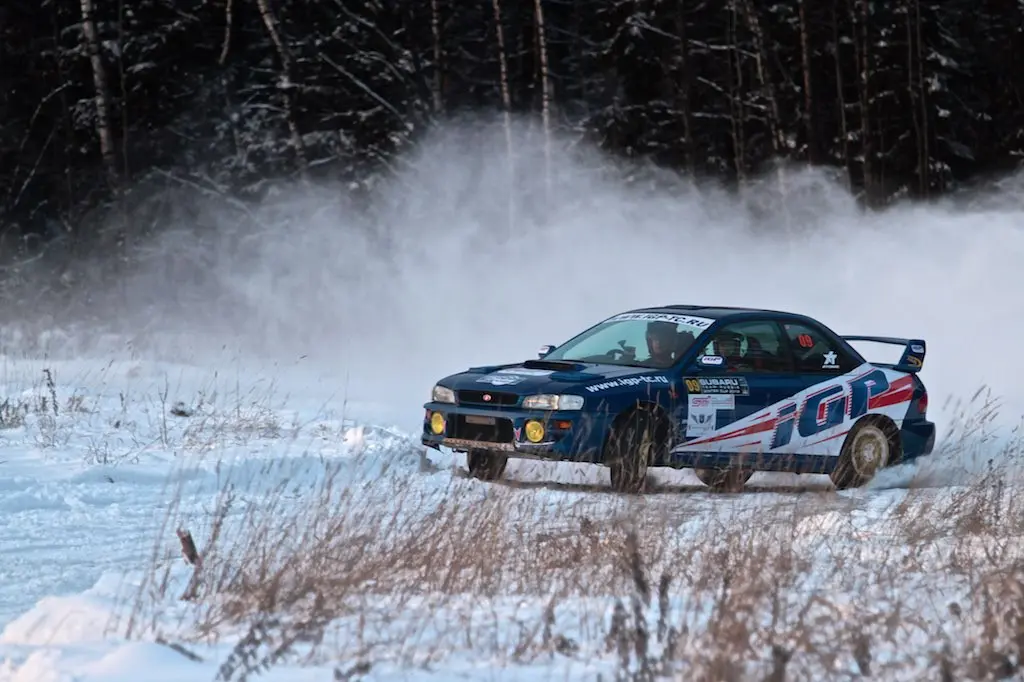 Subaru leading gap from Mitsubishi at the finish line
As early as on the first special stage the best time was shown by WTEI supported crew of Rusanov/Selivanov on Subaru Impreza 4000H, who could hold the first place throughout the race with five SS victories. In such way, they finished the race with 26 seconds in front of nearest competitor, despite the fact that SS-5 and SS-6 the crew drove with a puncture.
Alexander Rusanov: "Very positive impressions from the first stage! The track is very interesting and versatile, entry list is the strongest in Moscow and region that is traditional for STR Winter Cup. Slightly gave ourselves a hard time with a punctured wheel on SS-5, but the previously achieved gap allowed us to have a win, we are very happy about!"
With remarkable results on special stages, the crew of Shachnev/Ivanova on Subaru Impreza STi Type-R drove to the second place. The discovery of the stage was Mitsubishi Lancer Evo X driver Dubinin who drove without a co-driver and pace notes. His preservance allowed him to reach third place in overall results. Winners were awarded by cups, medals and sponsors' prizes. After the event, as usually tired but happy, participants took places in their cars for the road to their homes to prepare for New Year celebrations as well as for next Winter Cup stage that will take place on January, 18 2015 at Rostov Velikiy.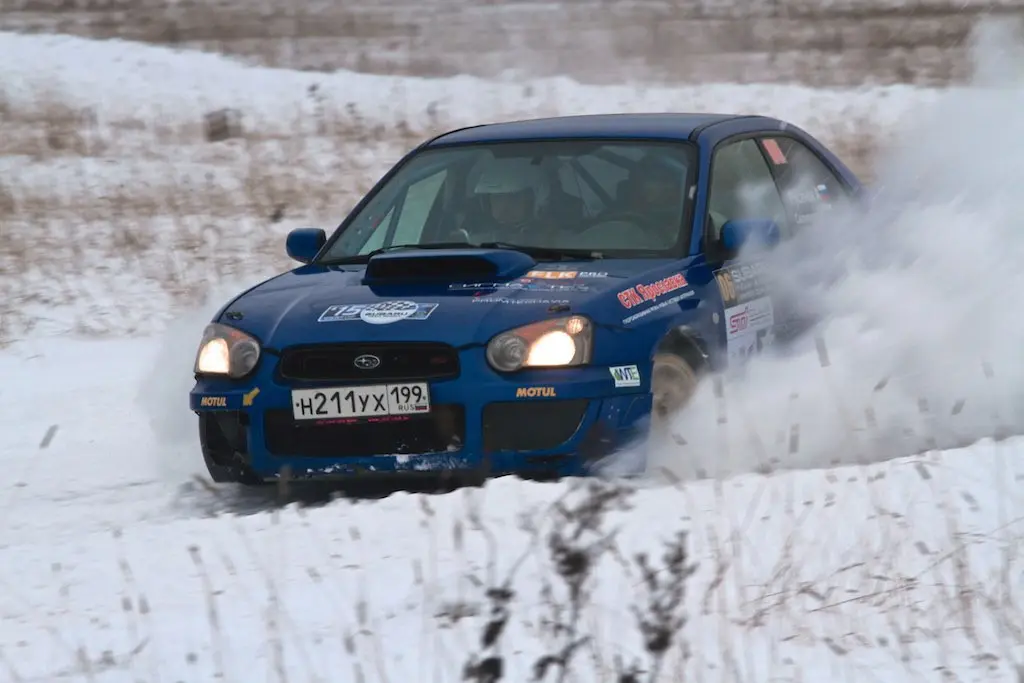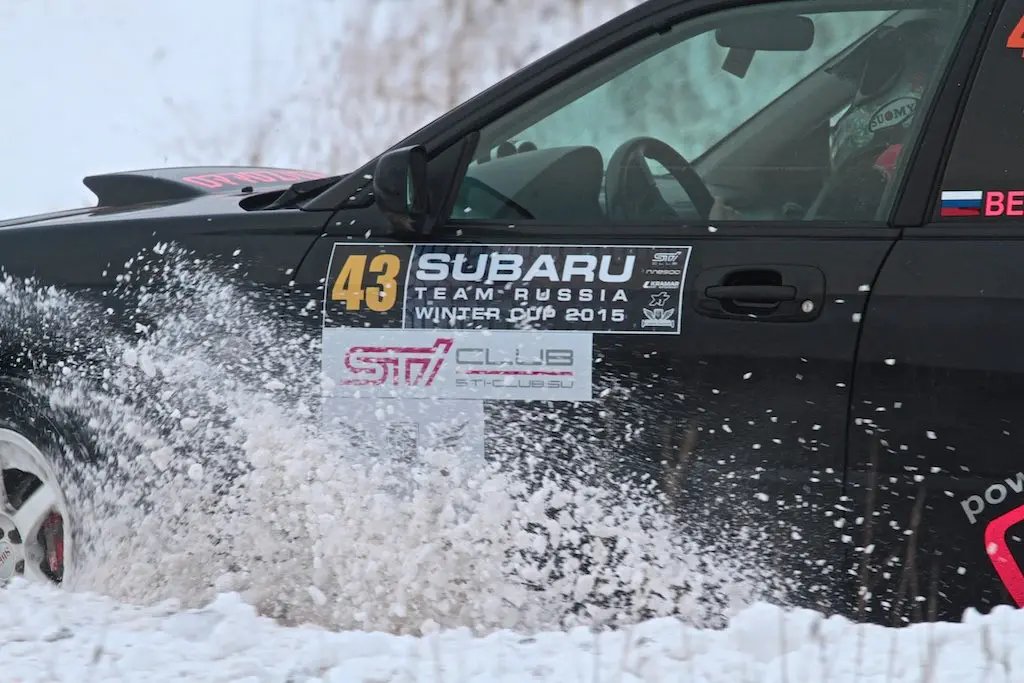 Author: Ksenia Turok
Photos: Nikolay Pavlenko