By Ben Messenger,
Waste Management World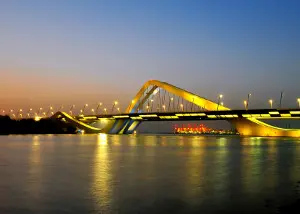 Qualifications are being invited for the bidding process to develop a 1 million tonne per year, 100 MW waste to energy facility in Abu Dhabi.
Abu Dhabi based energy company TAQA (ADX: TAQA) made the invitation for companies to submit qualifications ahead of tendering the engineering, procurement and construction (EPC) contract for the United Arab Emirate's first waste to energy plant.
According to the energy company the request for qualifications follows the completion of the pre-feasibility study and Memorandum of Understanding signed in June 2012 with The Centre of Waste Management Abu Dhabi for the joint development of the facility.
TAQA said that it expects to award the EPC contract in Q4 2013 and for the plant to be operational by 2016/17."The development of sustainable energy and waste infrastructure technologies, as well as diversion of waste from landfills, are goals identified in the Abu Dhabi Plan 2030," explained Dr Saif Al Sayari, executive officer and head of the TAQA's Energy Solutions division.
"We see this as a launch pad for future waste-to-energy projects in the region," he added.
TAQA said that it has appointed Ramboll Group to advise on engineering and WS Atkins (LSE: ATK) to advise on environmental permitting and waste characterisation. HSBC has been selected as financial advisor while Linklaters has been appointed legal advis
The company added that it has appointed Roger Anderson – formerly of Waste Management (NYSE: WM) subsidiary, Wheelabrator – as Technical Manager for the waste to energy plant.
Read More
100 MW Waste to Energy Facility for Abu Dhabi
A Memorandum of Understanding (MoU) for the joint development of 100 MW waste to energy facility in Abu Dhabi has been signed by Abu Dhabi National Energy Company PJSC (TAQA) and The Centre of Waste Management Abu Dhabi (CWM).
UAE Ban Opens Market to Oxo-Biodegradable Plastics Firm 
Concerned by the prospect of plastic pollution accumulating in the deserts and the sea, the United Arab Emirates has brought forward its policy to ban all disposable plastic products except those made from oxo-biodegradable plastic.
Largest Tyre Recycling Facility in UAE 
An 8000 kg per hour tyre recycling facility has been opened in Al Ain, Abu Dhabi, making it the largest in the United Arab Emirates.