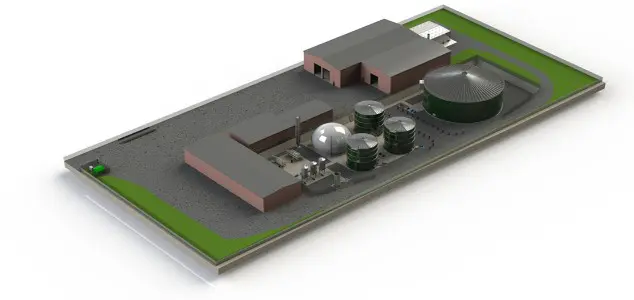 Mansfield, UK based anaerobic digestion specialist, Monsal, has secured a major order with biogas developer, Tamar Energy to provide the complete technology package for a 45,000 tonne per year food waste facility in Halstead, Essex.
Tamar Energy is a specialist renewable energy business that focuses solely on Anaerobic Digestion (AD). The company has a stated long-term aim of building a network of 40 biogas plants and producing  across the UK with a total capacity of 100 MW by 2018.
Construction on the Halstead, which is situated on land adjacent to the Bluebridge Industrial Estate in Halstead, began in June this year and is expected to last for approximately 12 months.
For its part, Monsal said that it will supply the waste reception equipment, de-packaging equipment, hydrolysis plant, pasteurisation plant, anaerobic digestion including its SGM mixing technology, the biogas management system, the digestate management system and the odour extraction and treatment technology.
The project is being led by principal contractor, Barhale Construction.
GE gas engine distributor and service partner, Clarke Energy will supply Jenbacher CHP engines with a total electrical output of 2MW. (See WMW Story)
According to Monsal the delivery of such fast track projects relies on collaboration between all parties.
Once complete it is estimated that the plant will create five full-time jobs.
Read More
17,000 TPA Anaerobic Digestion Biogas Plant at Michigan State University
Michigan State University has operand a 17,000 ton per year anaerobic digester that will produce biogas from the co-digestion of farm and food waste on its campus.
VIDEO: Chemocatalysis to Unlock Biofuel from Wastes
Science and industry are collaborating in the Dutch CatchBio project to develop catalytic reactions that process biowaste into useful biofuels, chemicals and pharmaceuticals.
100 TPD Biofuel Demo Facility to Process Agricultural Wastes in India
A biofuel demonstration facility that will process 100 tonne of biowaste per day to produce cellulosic ethanol is under construction in in the Sangli District of Maharashtra, India.