UNTHA UK, a subsidiary of Austrian shredder manufacturer UNTHA, has launched the new 'XR' shredder series for bulky waste shredding and the production of waste derived fuels.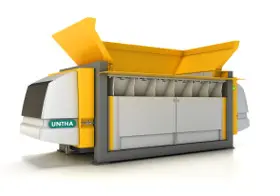 The company explained that it is the first machine to be designed and manufactured its innovation centre in Kuchl, Austria, and has been specifically engineered to shred untreated Municipal Solid Waste (MSW), Commercial & Industrial (C&I) waste and general bulky waste.
According to UNTHA UK, the XR shredders could reduce energy consumption by up to 50% – potentially saving clients more than £500,000 in electricity costs alone over the lifetime of the machine.
To achieve this, the company said that the XR is powered by new 'UNTHA Eco Drive' technology, which uses water-cooled synchronous motors, rather than a conventional electro-hydraulic operation.
This is claimed to enable the machines to operate more efficiently without overheating, while load-dependent speed controls adjust the RPM and torque to maximise throughputs.
The company added that operators can process up to 70 tonnes of waste per hour, whilst minimising the parasitic load of their plant.
UNTHA said that in developing the new shredder it focused on offering more flexibility.  Depending on the waste to energy scenario, the XR can be supplied with a ripping mechanism for tearing untreated waste, or a more defined cutting concept for precision shreds.
Operators can predetermine particle size with the help of interchangeable screens and screen bars to produce a homogenous fraction as small as 50mm or as large as 400mm.
"The new XR provides the most cost-effective way to achieve a 50mm output, at high throughputs, in a single pass," claimed UNTHA UK's sales director and waste to energy consultant, Marcus Brew.
"Clients can configure and reconfigure the technology according to their evolving customer specifications, which will protect their investment in this shredder for years to come," he continued.
UNTHA said that the benefits of the XR include:
Quiet operation, reportedly making it the only shredder to comply with the Industrial Emissions Directive's stringent noise minimisation criteria. Results of less than 75dB(A) have been achieved to date
Ease of maintenance – no couplings, belts, pulleys, hydraulic pumps or stub shafts are used
Low charging height – waste can now be fed into the machine with just one, wheeled loader, whereas two pieces of kit and two operators were previously needed.
"Alternative fuel production is becoming increasingly important. However, for RDF and SRF manufacturers to truly commit to and improve the country's sustainability agenda, they should also be considering the energy efficiency of their waste to energy technologies," commented Chris Oldfield, managing director of UNTHA UK.